This post is written in English and Dutch.
Deze blogpost is geschreven in Engels en Nederlands.
At the moment, I am working on the Stardust Collection combining my love for weaving with my fascination for the universe. Read more in the introduction of the Stardust Collection. Today, I would like to introduce you to Solar Abundance. This completes the collection.
Op dit moment werk ik aan de Stardust Collectie waarin mijn liefde voor weven en mijn fascinatie voor het universum samen komen. Lees meer in de introductie van de Stardust Collectie. Vandaag stel ik jullie voor aan Solar Abundance. Hiermee is de collectie compleet.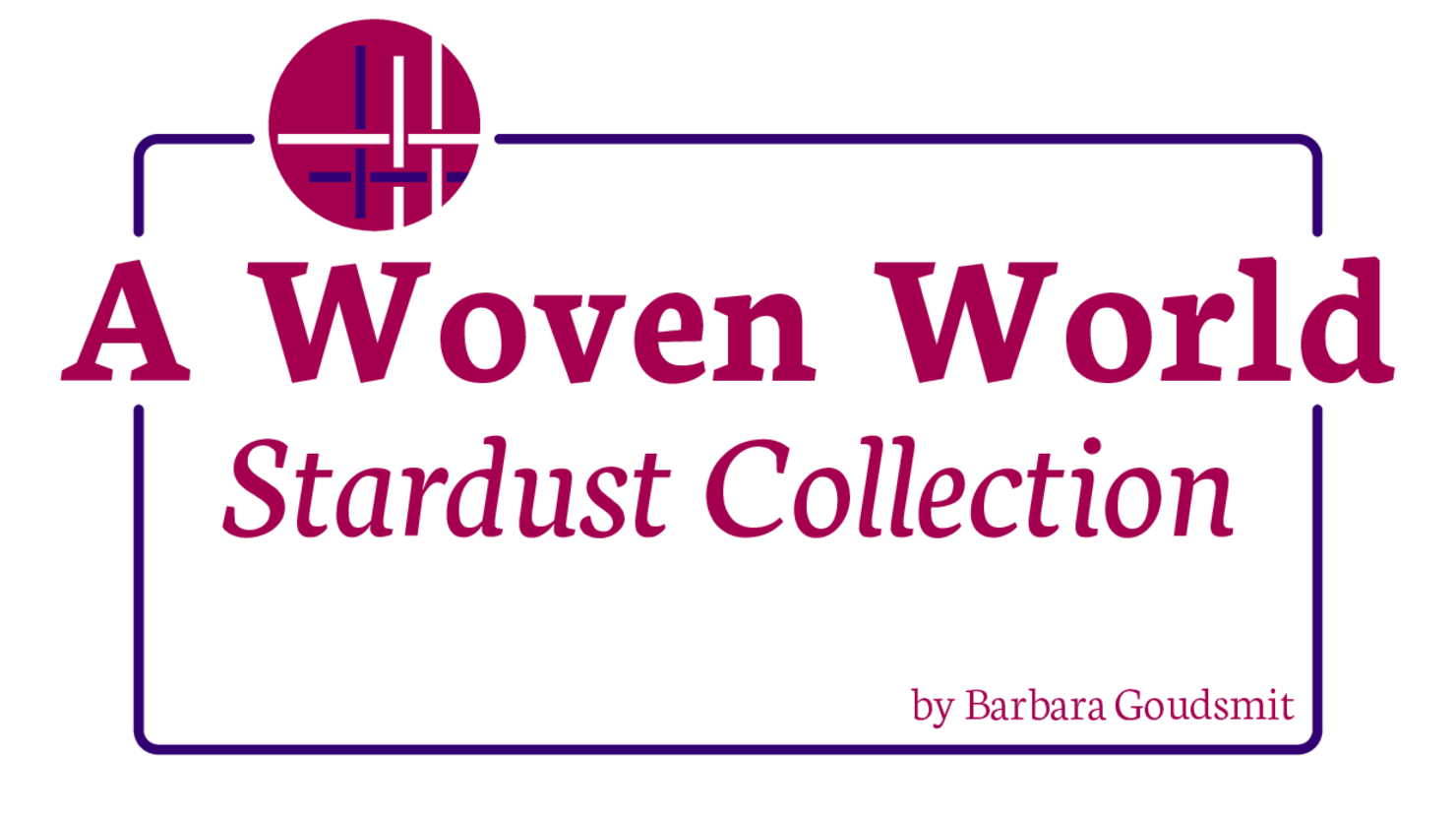 Solar Abundance: The building blocks of a star
Everything radiates, from massive objects like stars and planets to the tiny atoms that make up all matter. In fact, the radiation of a star is the combination of the radiation that is emitted by all the atoms making up the star. The radiation that an atom emits has a certain color, somewhere between ultraviolet and infrared. This color differs per element. For example, hydrogen, oxygen and nitrogen each radiate in their own color. So, an atom can be identified by the color of radiation that it emits. The radiation of a star combines all these colors and hence spans the entire colorspectrum of the rainbow — from ultraviolet to infrared. By looking at the intensity of the different colors in the colorspectrum of a star, it is possible to determine how much of each element it contains. In the case of the sun, this composition is called the Solar Abundance. In this shawl, I alternated green and petrol colors in the warp as symbols of the radiation colors of single atoms. This reminds us that all objects, even massive stars, are made up of tiny atoms.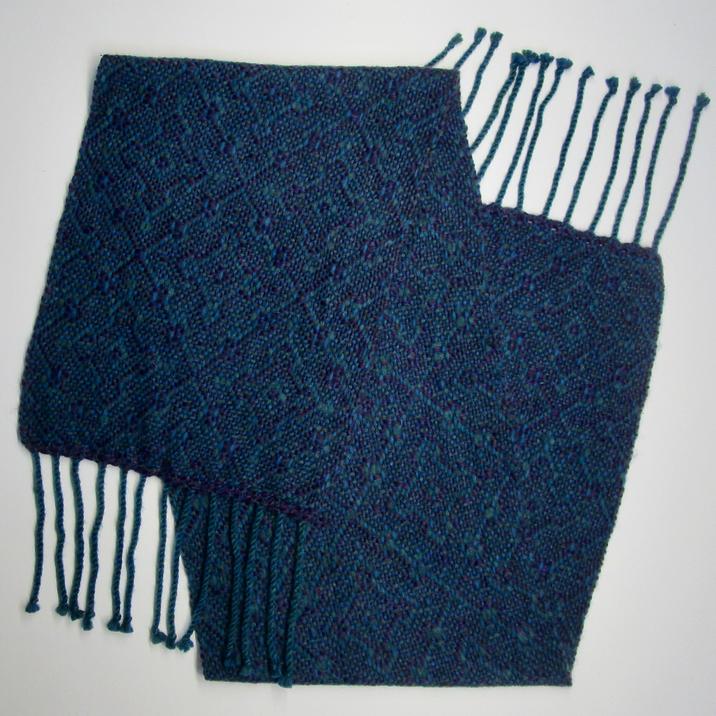 Alles straalt, van gigantische sterren en planeten tot de minuscule atomen die de bouwstenen zijn van alle materie. In feite is de straling van een ster de combinatie van de straling die wordt uitgezonden door de atomen die de ster bevat. Elk atoom straalt in een bepaalde kleur, van ultraviolet tot infrarood. Deze kleur verschilt voor de verschillende elementen, bijvoorbeeld waterstof-, zuurstof- en stikstofatomen stralen allemaal een unieke eigen kleur uit. Een atoom kan dus geïdentificeerd worden op basis van de straling die hij uitzendt. De straling van een ster combineert al deze kleuren en bevat zo het hele kleurenspectrum van de regenboog van ultraviolet tot infrarood. Door te kijken naar de intensiteit van de verschillende kleuren in het lichtspectrum van een ster, kan vastgesteld worden uit welke elementen de ster is opgebouwd. In het geval van de zon wordt deze compositie de Solaire Abundantie genoemd. In deze sjaal wisselen groene en petrol kleuren elkaar af in de schering als symbool voor de stralingskleuren van atomen. Dit herinnert ons eraan dat alle objecten, zelfs gigantische sterren, opgebouwd zijn uit minuscule atomen.
Solar Abundance in more detail
Yarn and color palette
Solar Abundance is made of a cotton (45%), alpaca (47%) and wool (8%) blend. The yarn is made by blowing alpaca and wool fibers into a cotton tube. This results in a nice thick yarn that is still lightweight, making the shawl both warm and breathable. Solar Abundance is made with a warp of green and petrol, and a weft of dark purple.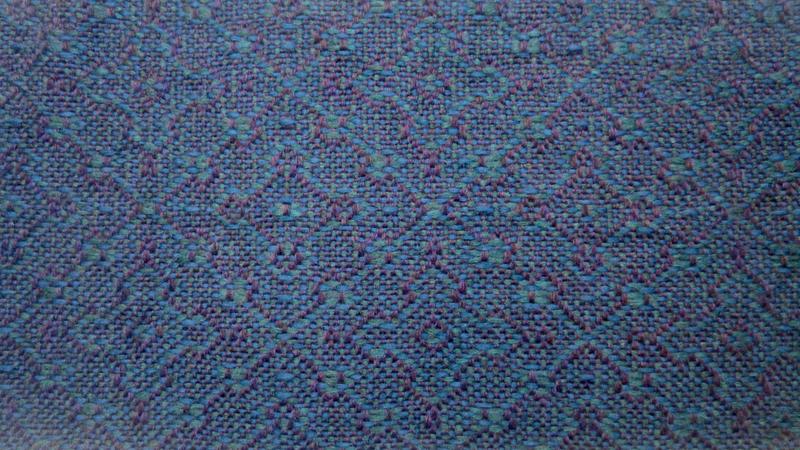 Solar Abundance is gemaakt van een mix-garen met katoen (45%), alpaca (47%) and wol (8%). Het garen is gemaakt door alpaca en wol vezels in een katoenen kous te blazen. Dit proces geeft een lekker dik garen dat niet zwaar is, wat de sjaal een warm en toch luchtig resultaat geeft. Solar Abundance is gemaakt met een schering van groen en petrol en een inslag van donkerpaars.
Weaving technique
Solar Abundance is made using the advancing twill weaving technique. A standard twill pattern can be recognized by clear diagonal lines, as can be seen in jeans fabric. In an advancing twill pattern, these diagonal lines are moved back and forth, creating zigzags. By varying this back-and-forth movement, numerous beautiful patterns can be created. For Solar Abundance, I applied the advancing twill technique with a warp of alternating green and petrol and a dark purple colored weft.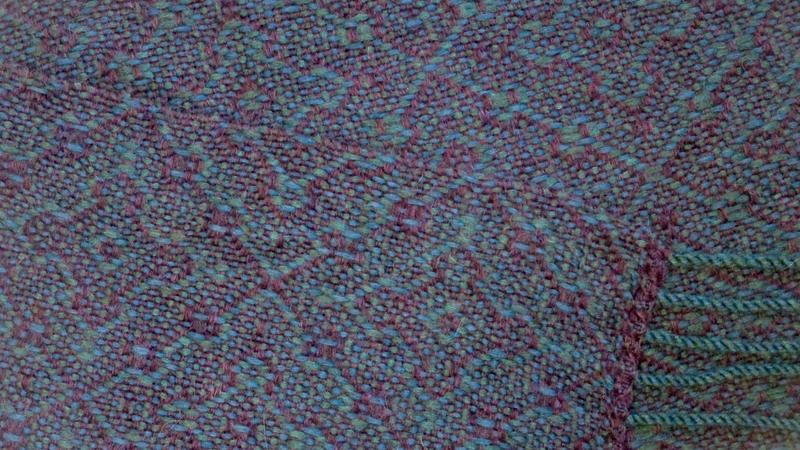 Solar Abundance is geweven met de verschoven keper weeftechniek. Een standaard keperpatroon kun je herkennen aan de duidelijke diagonale lijnen. Veel spijkerstof is bijvoorbeeld geweven als standaard keper. In een verschoven keper worden deze diagonale lijnen als het ware heen en weer geschoven. Dit zorgt voor een zigzag effect. Door te variëren met dit heen-en-weer schuiven ontstaan talloze mooie patronen. In Solar Abundance pas ik de verschoven keper weeftechniek toe met een schering waarin groen en petrol elkaar afwisselen en een donkerpaarse inslag.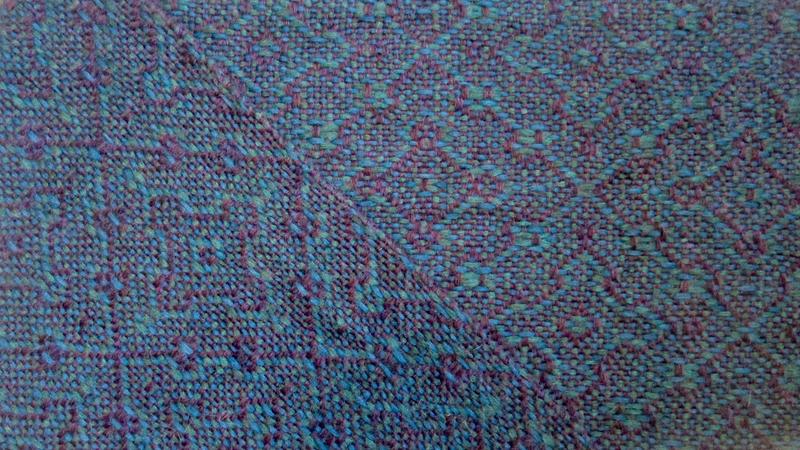 Availability
The Stardust Collection will be available for sale at Eighty fashionstore in Emmeloord in the fall. Please contact me if you have any comments or questions. I would be happy to hear if you are interested in one of my shawls, be it from the Stardust Collection or a personalised shawl made just for you. Please let me know in case you would like your own piece of my woven world!
Update November 1, 2020: The Stardust Collection is complete and for sale now! Meet all eight shawls of the Stardust Collection in the gallery below. Saturday October 31, 2020, I introduced the collection to the public at Eighty fashionstore. The reaction were heartwarming and I am proud to tell you that both the Luminosity shawl and the Supernova shawl have already found a new owner. You are welcome to see the shawls for yourself at Eighty, Esther and her team are happy to help you.
De Stardust Collectie zal in de herfst beschikbaar zijn in de damesmodezaak Eighty in Emmeloord. Neem gerust contact met me op bij opmerkingen of vragen. Ik zou het leuk vinden van je te horen als je interesse hebt in een van mijn sjaals van de Stardust Collectie of als je een gepersonaliseerde sjaal door mij wilt laten maken. Ik maak je graag onderdeel van mijn weefwereld!
Update 1 november 2020: De Stardust Collectie is compleet en nu te koop! Maak kennis met alle sjaals van de collectie in het overzicht hieronder. Op zaterdag 31 oktober heb ik de collectie geïntroduceerd aan de klanten van damesmodezaak Eighty. De reacties waren hartverwarmend en ik ben er trots op dat zowel de Luminosity sjaal als de Supernova sjaal al een nieuwe eigenaar hebben gevonden. Esther en haar team staan voor je klaar bij Eighty, je bent welkom om de sjaals te komen bekijken!