This post is written in English and Dutch.
Deze blogpost is geschreven in Engels en Nederlands.
At the moment, I am working on the Stardust Collection combining my love for weaving with my fascination for the universe. Read more in this introduction. Today, I would like to show you the first shawl of this collection: Nebula.
Op dit moment werk ik aan de Stardust Collectie waarin mijn liefde voor weven en mijn fascinatie voor het universum samen komen. Lees meer in deze introductie. Vandaag stel ik jullie voor aan de eerste sjaal van de collectie: Nebula.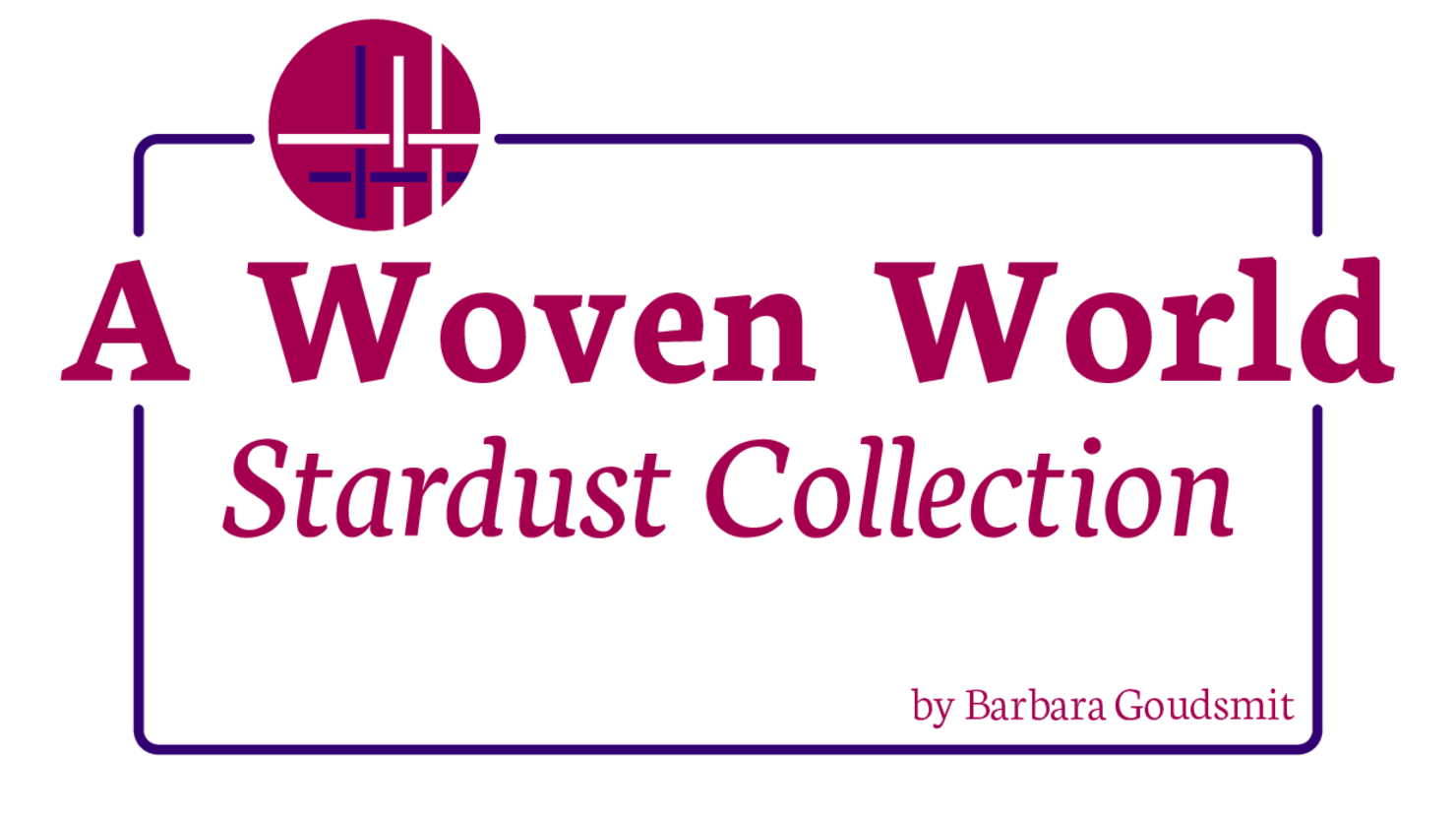 Nebula: the birth of a star
At the end of a star's life, it collapses and explodes into a supernova. The remaining cloud of dust contains the building blocks for new stars and planets. This dust cloud is called a nebula, from the Latin word for cloud. Gravitational differences within the nebula cause parts of the nebula to clump together. These precursors of stars and planets grow to full-sized celestial bodies. This proces formed the inspiration for the Nebula shawl — the shawl contains a pattern of star shapes surrounded by a nebula of turquoise and red dots. In this way, the shawl symbolises the birth of a star out of stardust from an old star.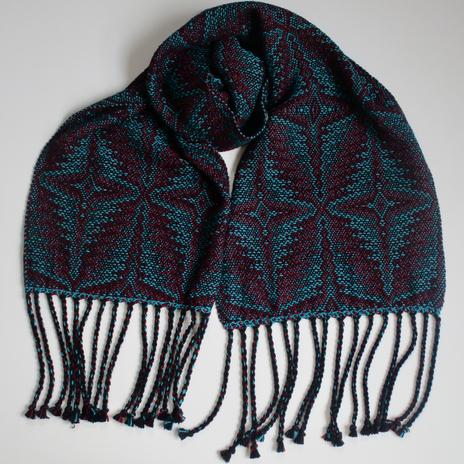 Aan het einde van zijn levensloop stort een ster in en explodeert hij: een supernova. Er blijft een stofwolk over die de basis vormt voor nieuwe sterren en planeten. De wolk van sterrenstof wordt ook wel een nebula genoemd, naar het Latijnse woord voor wolk. Door zwaartekracht verschillen binnen de nebula ontstaan klonteringen die steeds verder groeien en uiteindelijk sterren en planeten vormen. Dit geboorteproces van een ster vormt de inspiratie voor deze sjaal. De turquoise en rode draden in de sjaal zorgen samen voor een patroon van sterren omgeven door een rode en turquoise nebula. Dit symboliseert het ontstaan van nieuwe sterren uit het oude sterrenstof.
Nebula in more detail
Yarn and color palette
Nebula is made of a cotton and bamboo blend, which is both warm and breathable and has a subtle shimmer. It will keep you warm on cold days and cool on warm days. I combined a black warp with turquoise and deep red in the weft.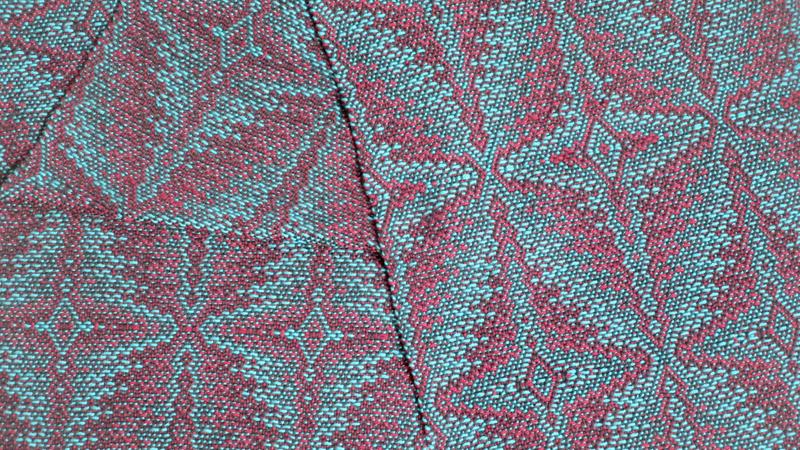 Nebula is gemaakt van een mix-garen met bamboe en katoen met een subtiele glans. Dit geeft een warm en toch luchtig resultaat. Het garen houdt je warm als het koud is en koel wanneer het warm is. In de sjaal is een zwarte schering gecombineerd met een inslag van turquoise en rood.
Weaving technique
Nebula is made using the advancing twill weaving technique with an echo effect. A standard twill pattern can be recognized by clear diagonal lines, as can be seen in jeans fabric. In an advancing twill pattern, these diagonal lines are moved back and forth, creating zigzags. By varying this back-and-forth movement, numerous beautiful patterns can be created.
In Nebula, I have combined advancing twill with an echo effect. This means that I have woven two different advancing twill pattern in an alternating fashion in two different colors. In the case of Nebula, one pattern is woven in turquoise and another one in red. These patterns can be regarded as the echos of each other. Advancing twill with echo is one of my favorite weaving techniques, as it fascinates me how mixing two patterns in this way creates one beautiful and playful motif.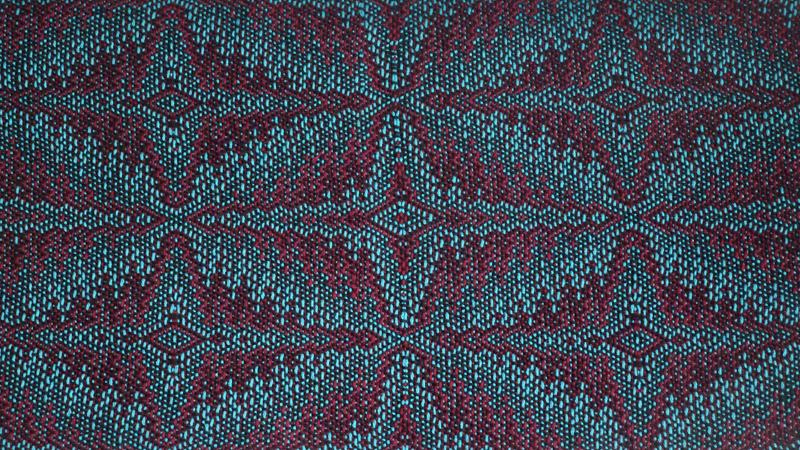 Nebula is geweven met de verschoven keper weeftechniek met een echo effect. Een standaard keperpatroon kun je herkennen aan de duidelijke diagonale lijnen. Veel spijkerstof is bijvoorbeeld geweven als standaard keper. In een verschoven keper worden deze diagonale lijnen als het ware heen en weer geschoven. Dit zorgt voor een zigzag effect. Door te variëren met dit heen-en-weer schuiven ontstaan talloze mooie patronen.
In Nebula combineer ik verschoven keper met een echo effect. Dit betekent dat ik twee verschillende verschoven keper patronen door elkaar heen heb geweven in twee verschillende kleuren. In dit geval wisselen een patroon in turquoise en een patroon in rood elkaar af. De patronen vormen elkaars echo. Dit is een van mijn favoriete weeftechnieken. Ik vind het fascinerend om te zien hoe het mixen van twee patronen leidt tot eenheid in een mooi en speels motief.
Availability
The Stardust Collection will be available for sale at Eighty fashionstore in Emmeloord in the fall. Please contact me if you have any comments or questions. I would be happy to hear if you are interested in one of my shawls, be it from the Stardust Collection or a personalised shawl made just for you. Please let me know in case you would like your own piece of my woven world!
Update November 1, 2020: The Stardust Collection is complete and for sale now! Meet all eight shawls of the Stardust Collection in the gallery below. Saturday October 31, 2020, I introduced the collection to the public at Eighty fashionstore. The reaction were heartwarming and I am proud to tell you that both the Luminosity shawl and the Supernova shawl have already found a new owner. You are welcome to see the shawls for yourself at Eighty, Esther and her team are happy to help you.
De Stardust Collectie zal in de herfst beschikbaar zijn in de damesmodezaak Eighty in Emmeloord. Neem gerust contact met me op bij opmerkingen of vragen. Ik zou het leuk vinden van je te horen als je interesse hebt in een van mijn sjaals van de Stardust Collectie of als je een gepersonaliseerde sjaal door mij wilt laten maken. Ik maak je graag onderdeel van mijn weefwereld!
Update 1 november 2020: De Stardust Collectie is compleet en nu te koop! Maak kennis met alle sjaals van de collectie in het overzicht hieronder. Op zaterdag 31 oktober heb ik de collectie geïntroduceerd aan de klanten van damesmodezaak Eighty. De reacties waren hartverwarmend en ik ben er trots op dat zowel de Luminosity sjaal als de Supernova sjaal al een nieuwe eigenaar hebben gevonden. Esther en haar team staan voor je klaar bij Eighty, je bent welkom om de sjaals te komen bekijken!