This post is written in English and Dutch.
Deze blogpost is geschreven in Engels en Nederlands.
At the moment, I am working on the Stardust Collection combining my love for weaving with my fascination for the universe. Read more in the introduction of the Stardust Collection. Today, I would like to show you the next two shawls of this collection: Milky Way and Andromeda.
Op dit moment werk ik aan de Stardust Collectie waarin mijn liefde voor weven en mijn fascinatie voor het universum samen komen. Lees meer in de introductie van de Stardust Collectie. Vandaag stel ik jullie voor aan de volgende twee sjaals van de collectie: Milky Way en Andromeda.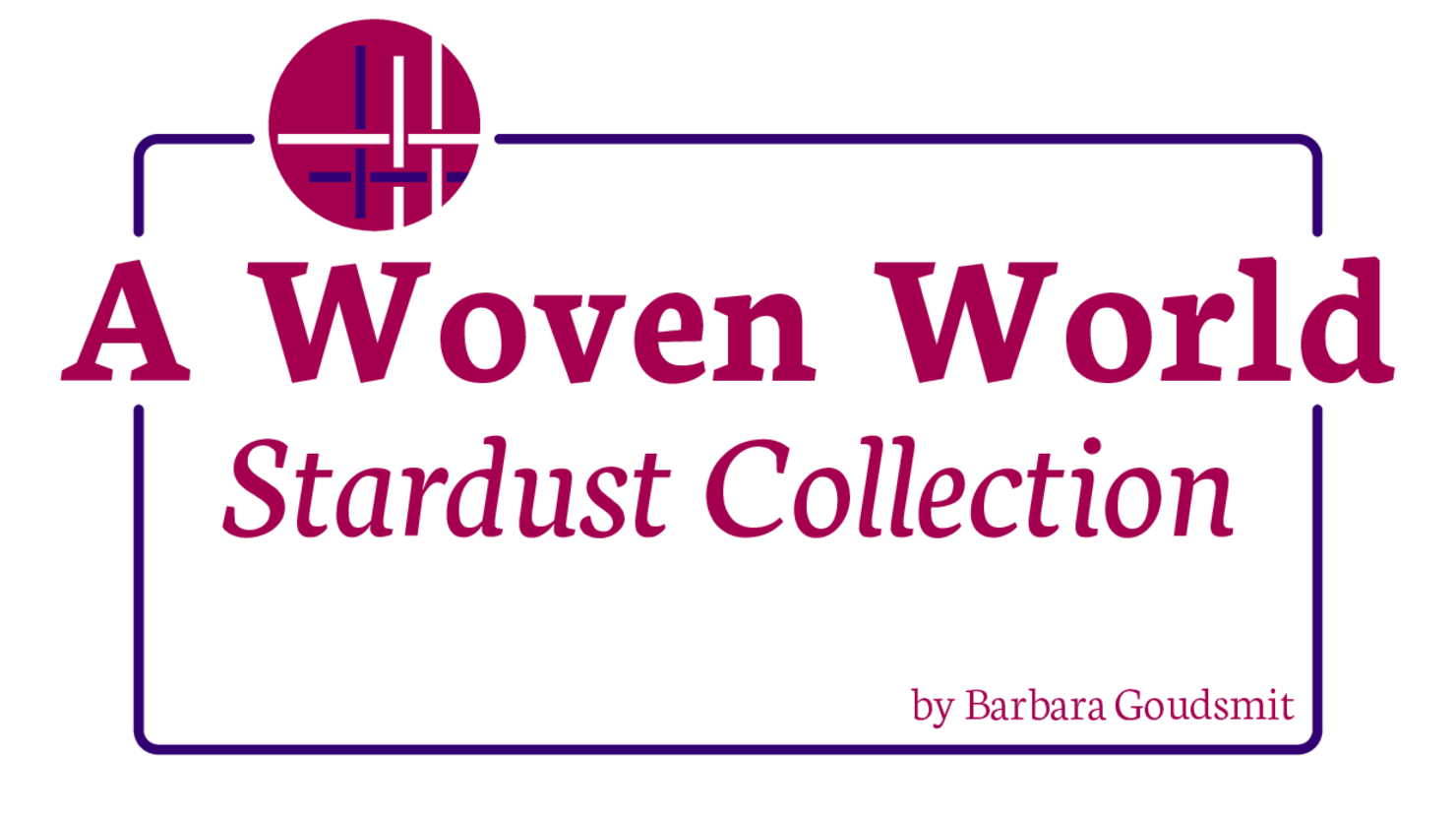 Milky Way & Andromeda: Galactic neighbours
Stargazing can be done night and day. In daytime, only the star closest to the earth is visible: the sun. Gravitational attraction lets the earth and seven other planets orbit around the sun, which is the central star of the Solar System. Millions of such planetary systems are grouped together in a galaxy. Our Solar System is part of the Milky Way and Andromeda is its neighbouring galaxy. Andromeda and the Milky Way are two of the billions of galaxies present in the universe. In short: the universe is immensely big. The star patterns making up these shawls contain far less stars that the galaxies they are named after. Hence, they are merely a symbol of the unimaginable size of Andromeda, the Milky Way and the universe that contains them.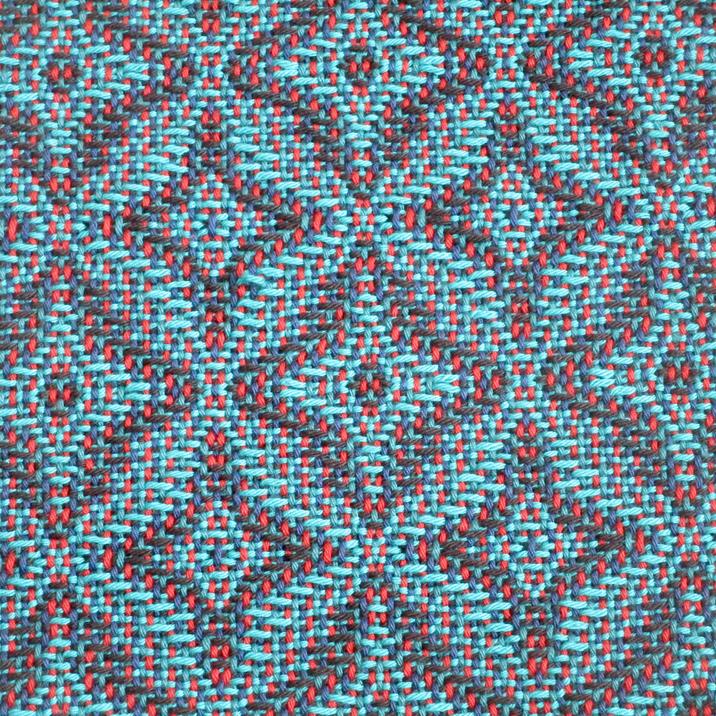 Niet alleen 's nachts zijn sterren te zien. Overdag zien we de ster die het dichtst bij de aarde staat: de zon. Aangetrokken door zwaartekracht draait de aarde samen met zeven andere planeten om de zon, de centrale ster van het zonnestelsel. Samen met vele miljoenen andere planetenstelsels vormt het zonnestelsel een sterrenstelsel: de Melkweg. De 'buurman' van de Melkweg is het Andromeda sterrenstelsel. De Melkweg en Andromeda zijn slechts twee van de miljarden sterrenstelsels die het universum rijk is. Kort samengevat: het universum is enorm groot. Het sterrenpatroon van deze sjaals bevat niet zoveel sterren als de Melkweg of Andromeda en is hiermee slechts een symbool voor de onvoorstelbare grootheid van de Melkweg, Andromeda en het universum waar zij onderdeel van zijn.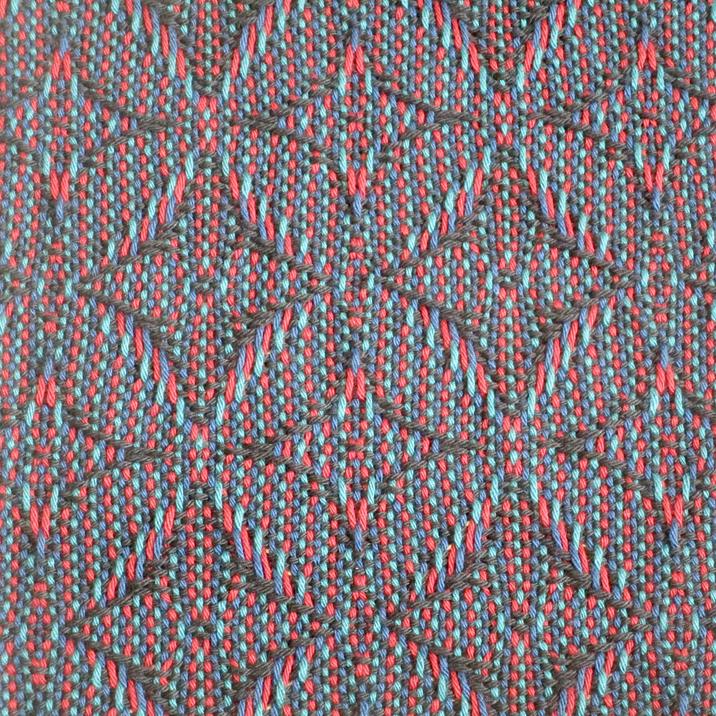 Milky Way & Andromeda in more detail
Yarn and color palette
Milky Way and Andromeda are made of a cotton and bamboo blend, which is both warm and breathable and has a subtle shimmer. It will keep you warm on cold days and cool on warm days. Both shawls are made from the same warp in which green, red and blue alternate. For Andromeda, I combined this warp with a black weft. Milky Way has a weft of both turquoise and black.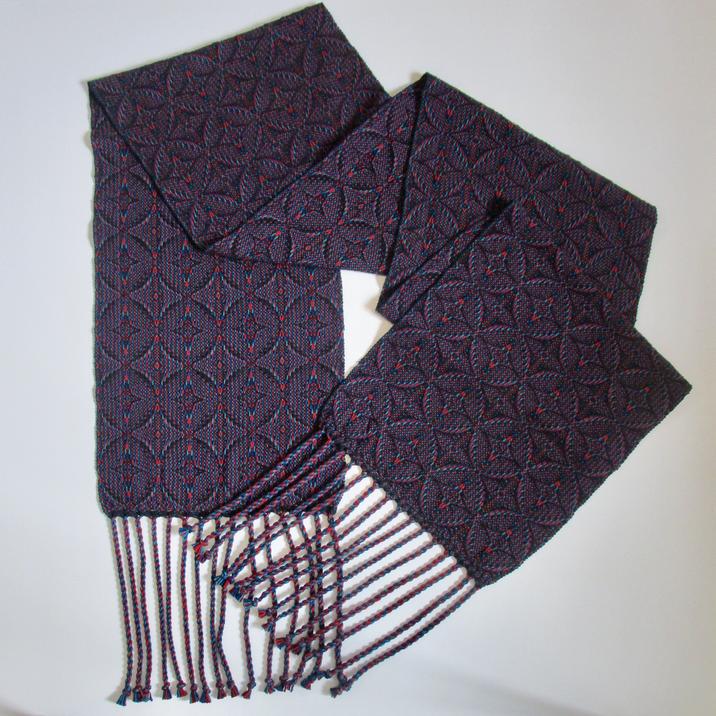 Milky Way en Andromeda zijn gemaakt van een mix-garen met bamboe en katoen met een subtiele glans. Dit geeft een warm en toch luchtig resultaat. Het garen houdt je warm als het koud is en koel wanneer het warm is. De sjaals zijn gemaakt van dezelfde schering waarin blauw, groen en rood elkaar afwisselen. In Andromeda heb ik een zwarte inslag gebruikt en voor Milky Way heb ik turquoise en zwart gecombineerd in de inslag.
Weaving technique
Milky Way and Andromeda are made using the advancing twill weaving technique. A standard twill pattern can be recognized by clear diagonal lines, as can be seen in jeans fabric. In an advancing twill pattern, these diagonal lines are moved back and forth, creating zigzags. By varying this back-and-forth movement, numerous beautiful patterns can be created.
For Andromeda, I applied the advancing twill technique with a simple black weft. This allows the three colors of the warp to take centre stage. In Milky Way, I have combined advancing twill with an echo effect. This means that I have woven two different advancing twill pattern in an alternating fashion in two different colors. In the case of Milky Way, one pattern is woven in turquoise and another one in black. These patterns can be regarded as the echos of each other. Although the shawls share a warp, they look completely different. For me this exemplifies both the power of weft color and the extra possibilities the echo effect gives in creating one of a kind patterns.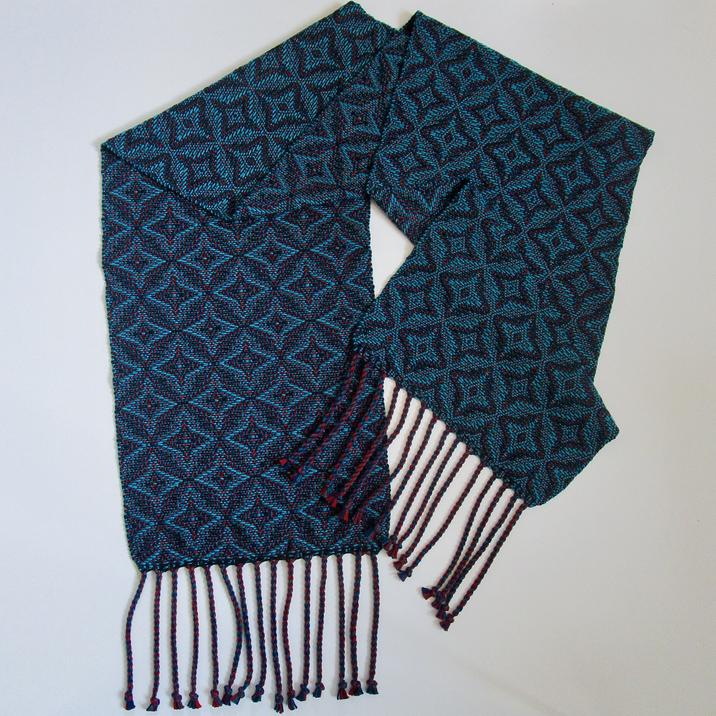 Milky Way en Andromeda zijn geweven met de verschoven keper weeftechniek. Een standaard keperpatroon kun je herkennen aan de duidelijke diagonale lijnen. Veel spijkerstof is bijvoorbeeld geweven als standaard keper. In een verschoven keper worden deze diagonale lijnen als het ware heen en weer geschoven. Dit zorgt voor een zigzag effect. Door te variëren met dit heen-en-weer schuiven ontstaan talloze mooie patronen.
In Andromeda pas ik de verschoven keper weeftechniek toe met een simpele zwarte inslag. Hiermee krijgen de drie kleuren van de schering de hoofdrol in deze sjaal. In Milky Way combineer ik verschoven keper met een echo effect. Dit betekent dat ik twee verschillende verschoven keper patronen door elkaar heen heb geweven in twee verschillende kleuren. In dit geval wisselen een patroon in turquoise en een patroon in zwart elkaar af. De patronen vormen elkaars echo. De sjaals delen een schering, maar zien er toch volkomen anders uit. Dit laat zien dat je eigenlijk nooit twee keer hetzelfde hoeft te weven: met inslag kleur en echo draden kun je eindeloos variëren.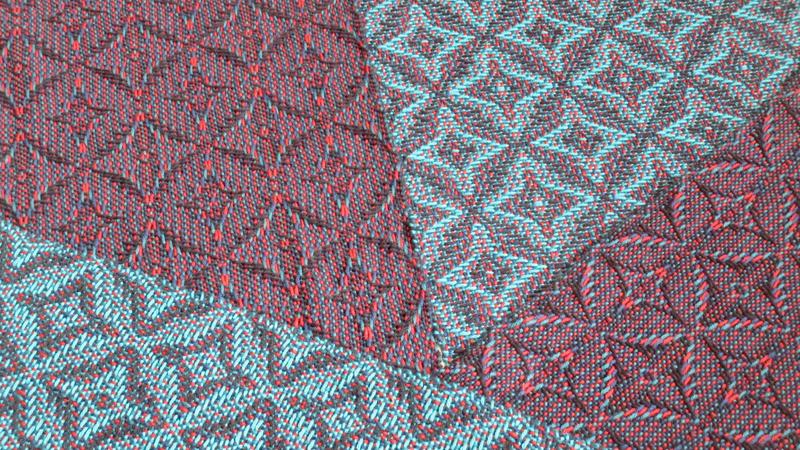 Availability
The Stardust Collection will be available for sale at Eighty fashionstore in Emmeloord in the fall. Please contact me if you have any comments or questions. I would be happy to hear if you are interested in one of my shawls, be it from the Stardust Collection or a personalised shawl made just for you. Please let me know in case you would like your own piece of my woven world!
Update November 1, 2020: The Stardust Collection is complete and for sale now! Meet all eight shawls of the Stardust Collection in the gallery below. Saturday October 31, 2020, I introduced the collection to the public at Eighty fashionstore. The reaction were heartwarming and I am proud to tell you that both the Luminosity shawl and the Supernova shawl have already found a new owner. You are welcome to see the shawls for yourself at Eighty, Esther and her team are happy to help you.
De Stardust Collectie zal in de herfst beschikbaar zijn in de damesmodezaak Eighty in Emmeloord. Neem gerust contact met me op bij opmerkingen of vragen. Ik zou het leuk vinden van je te horen als je interesse hebt in een van mijn sjaals van de Stardust Collectie of als je een gepersonaliseerde sjaal door mij wilt laten maken. Ik maak je graag onderdeel van mijn weefwereld!
Update 1 november 2020: De Stardust Collectie is compleet en nu te koop! Maak kennis met alle sjaals van de collectie in het overzicht hieronder. Op zaterdag 31 oktober heb ik de collectie geïntroduceerd aan de klanten van damesmodezaak Eighty. De reacties waren hartverwarmend en ik ben er trots op dat zowel de Luminosity sjaal als de Supernova sjaal al een nieuwe eigenaar hebben gevonden. Esther en haar team staan voor je klaar bij Eighty, je bent welkom om de sjaals te komen bekijken!