There are levels of pain that are impossible to comprehend without having felt them yourself. Daily waves of senseless violence rob innocent Ukrainian people of their safety, home, and loved ones. I cannot begin to grasp what this must feel like and it saddens me deeply that this happens to so many people. I can only hope that this brutal attack on innocent lives is over soon. To honor the Ukrainian people, I have used the blue and yellow colors of the Ukrainian flag and their national flower — the sunflower — as a basis for a weaving design.
In this post, I share my design and the plans I have to make it into a shawl. You are very welcome to use the weaving drafts to make your own sunflowers for Ukraine. I have provided downloadable wif-files below all drafts.
Capturing the sunflower into weaving
When I think about a sunflower, I see a big disk of tiny sunflower seeds surrounded by lots of long, bright yellow petals. I wanted to capture these characteristics into weaving. It was not straightforward to transfer the circular nature of the sunflower onto the perpendicular grid made up of warp and weft threads. I have gone through many iterations of sunflower design lines and finally settled on a flower with 12 long petals surrounding a 'disk' of 12 seeds on 8 shafts. The design is blockier than an actual sunflower, but I feel it still captures its essence.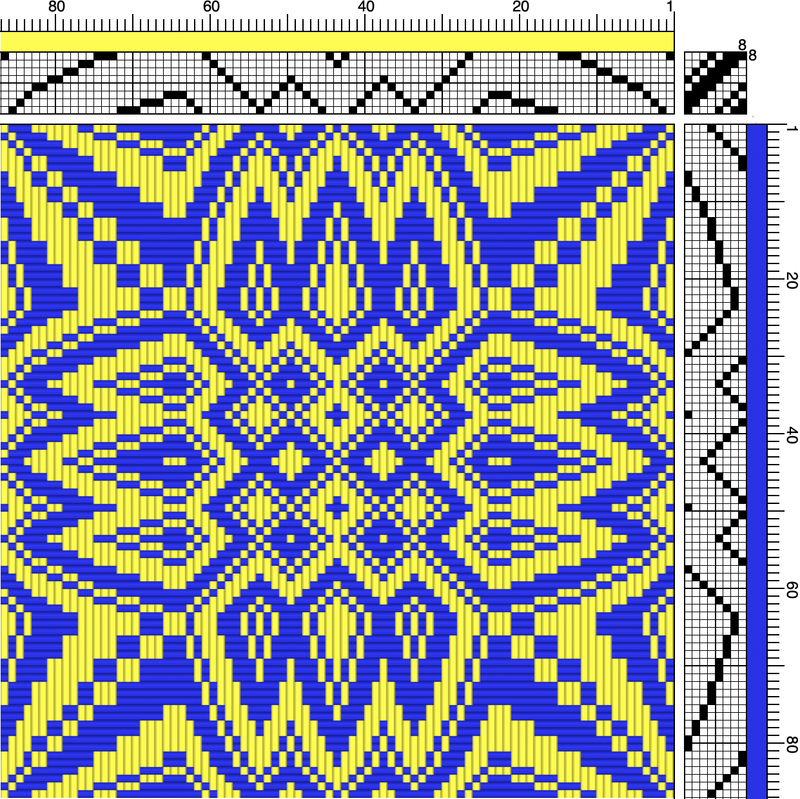 From design line to weaving draft
The design line is 87 threads wide, but I still had to turn it into an actual weaving draft. I decided to make a shawl in mercerized crochet cotton using 9 ends per cm for the warp. This led me to go for an echo-4 design, as the corresponding warp of 348 (87 times 4) threads would yield a shawl that is 39 cm wide.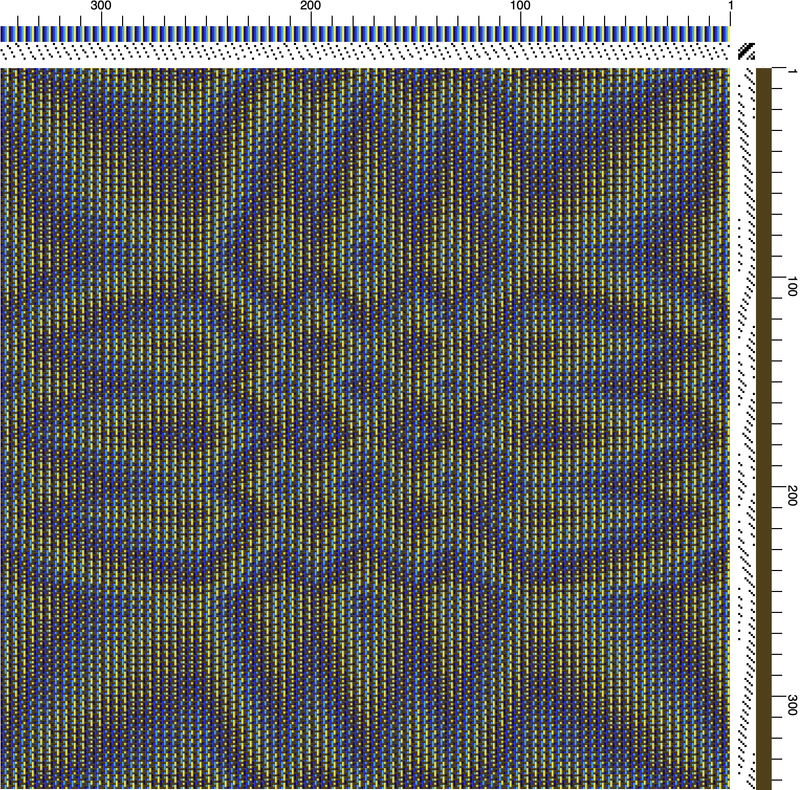 Color-wise, I used a palette of blues and yellows, and I tried many different color combinations. The one that appealed to me the most uses a brown weft and a warp color sequence of yellow — light blue — bright blue — marine. I obtained the brown color in the Fiberworks color-wheel by starting with yellow and adding black, and Fiberworks aptly describes the color as 'yellowish charcoal'. I think it really makes the yellow and blue warp colors come to live. Yellow is a really strong color – even though it makes up only one quarter of the warp threads, it is still clearly present in the end result.

I will be using Maxi Sugar Rush by Scheepjes for my shawl. It is a very nice crochet cotton that comes in a range of colors. I have picked out Yellow Gold (208), Vivid Blue (146), Electric Blue (201), and Ultramarine (124) for the warp and Black Coffee (162) for the weft.
Other options to weave sunflowers
Of course, echo-4 is but one option to go from design line to weaving draft. Turned Taqueté, the Corris effect, and Shadow Weave are three other great options for a sunflower-filled weaving design.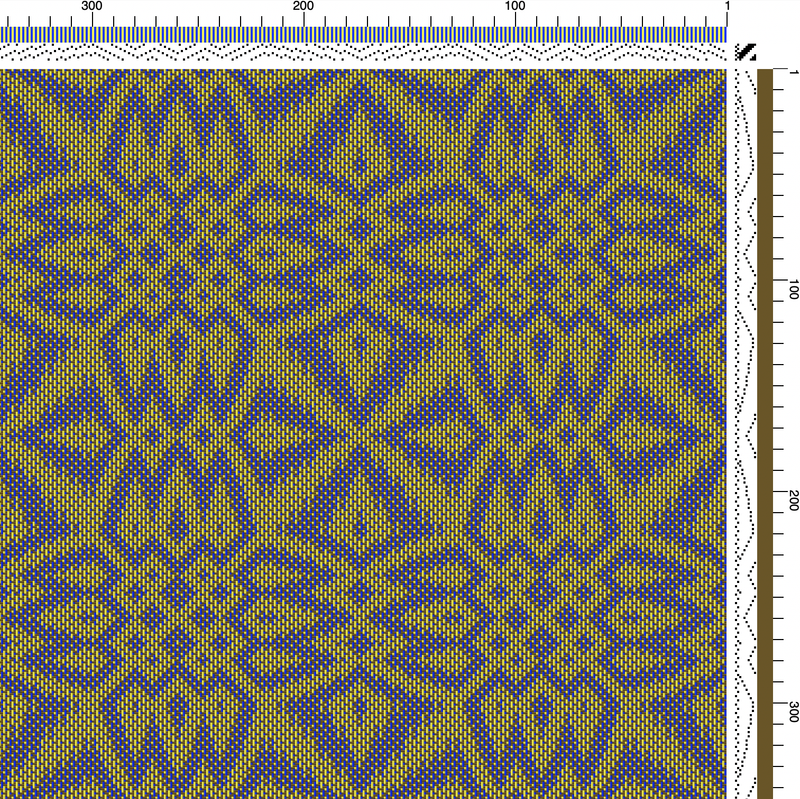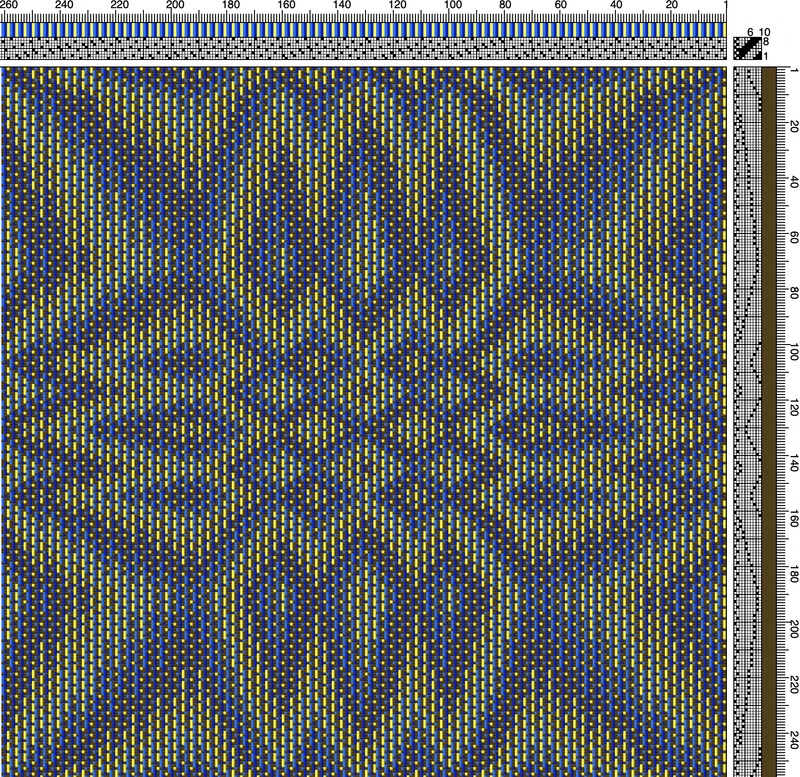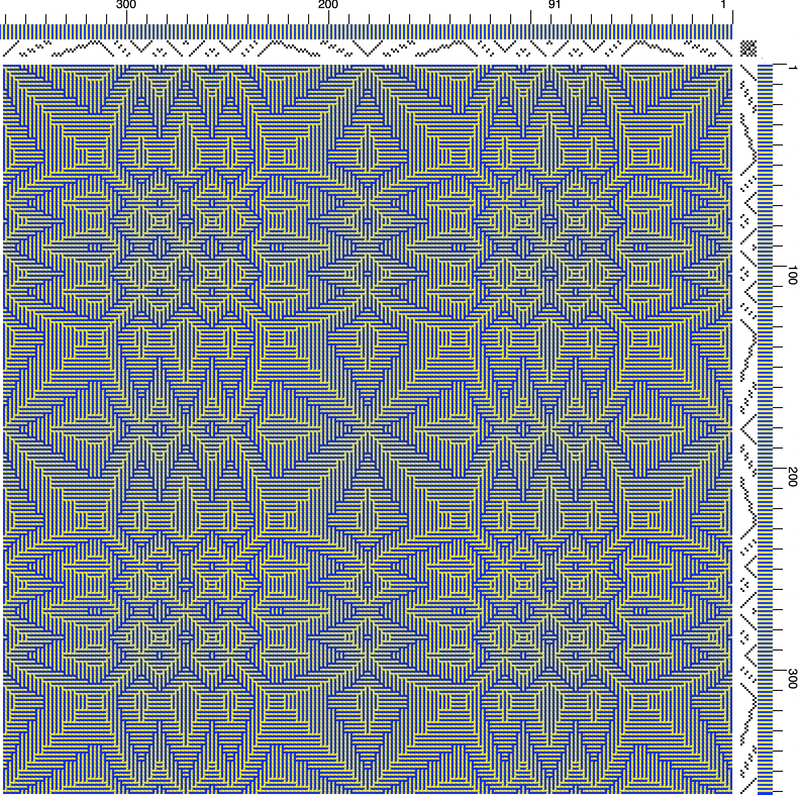 This week, I will start weaving the shawl. With every weft pick I place, I deeply hope the unnecessary attack on innocent people ends before I have reached the end of the warp.