This has been a busy year. Maintaining my blog while starting a full-time job has proven to be challenging. Fortunately, I did find the time to experiment with echo techniques on the 12-shaft loom that I got last year. I'm wrapping up 2022 with three projects in thin cotton.
Advancing diamonds in echo-8
I was excited to try out echo weave on 12 shafts when I got my Louet Spring loom a little over a year ago. My first echo project with 20/2 [cotton}(/tag/cotton/) was a shawl for my mother. Expanding the echo-8 technique from eight to twelve shafts is easy enough — just evenly spread-out the eight parallel threadings over the twelve shafts. My mother picked out a palette of purple, dark & light blue, turquoise, orange, red, magenta, and pink. I combined this with a black weft to make the colors stand out.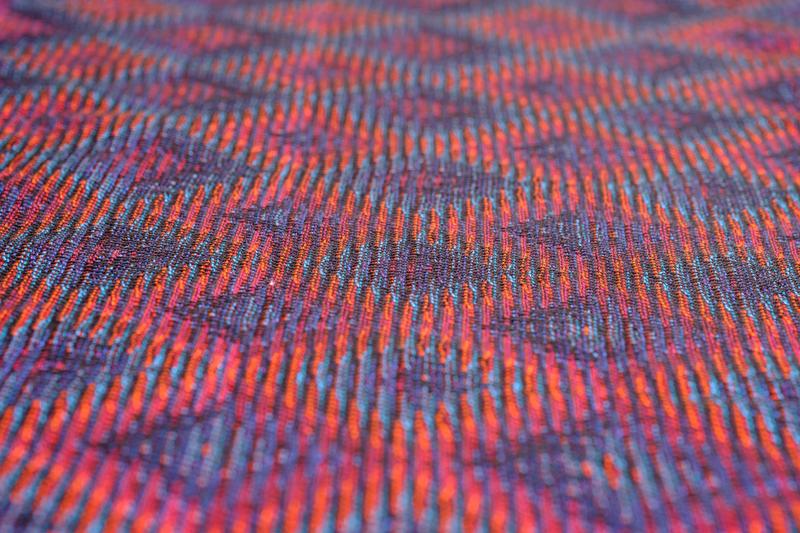 Weaving on my Louet Spring was a lot of fun. Treadling the headles was a bit challenging at first due to the additional four shafts. I decided to put marker threads on the inner four shafts to readily keep track of the shaft numbers.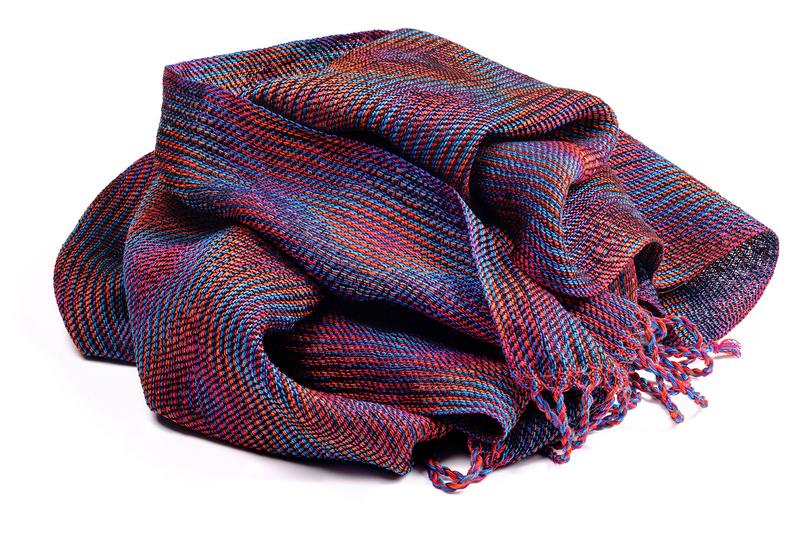 My mother really liked the advancing patterns that I had made before, so I opted for a pattern in advancing diamonds. The underlying design line is a fairly straightforward advancing point twill for both the warp and weft. I really enjoyed watching the progression of diamonds steadily emerge while weaving.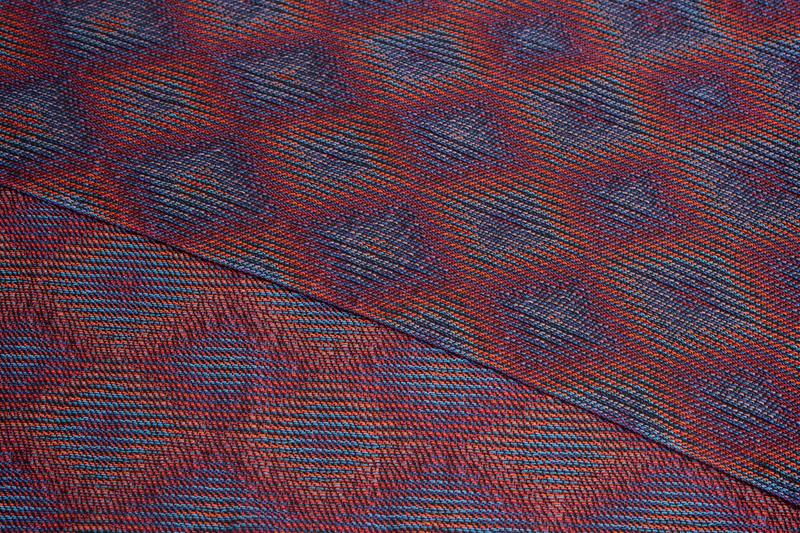 I chose a sett of 15 ends per centimeter, which allowed me to weave to square. Threading the reed was very easy because I decided to purchased a reed with 7.5 dents per centimeter after my first exploration of echo weave with 20/2 cotton. This reed definitely came in handy in 2022!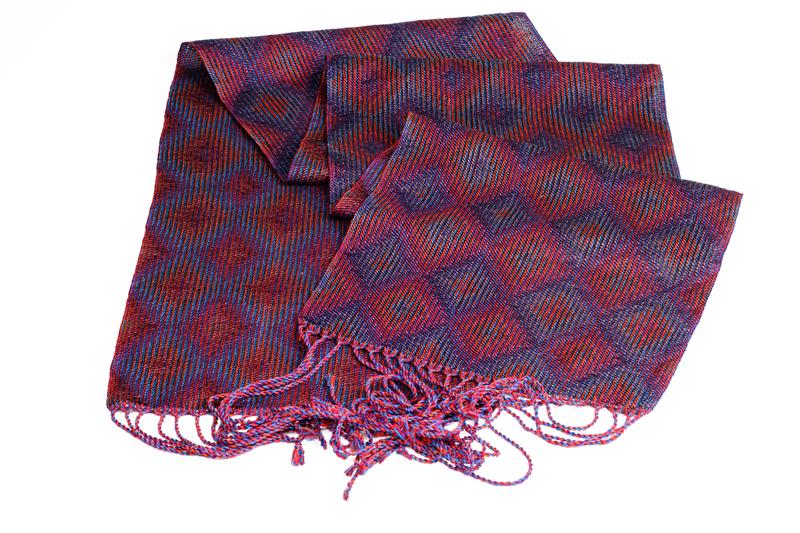 My mother was very please with the result and I got a taste for echo weaving with 20/2 cotton — as the two next projects aptly demonstrate.
Star in echo-8
Next up is a shawl that I made for my mother-in-law in a palette of purples, blues, and greens. This matches nicely with a marine weft. I again opted for the echo-8 technique with a sett of 15 ends per centimeter. This shawl looks completely different due to the variation in color palette.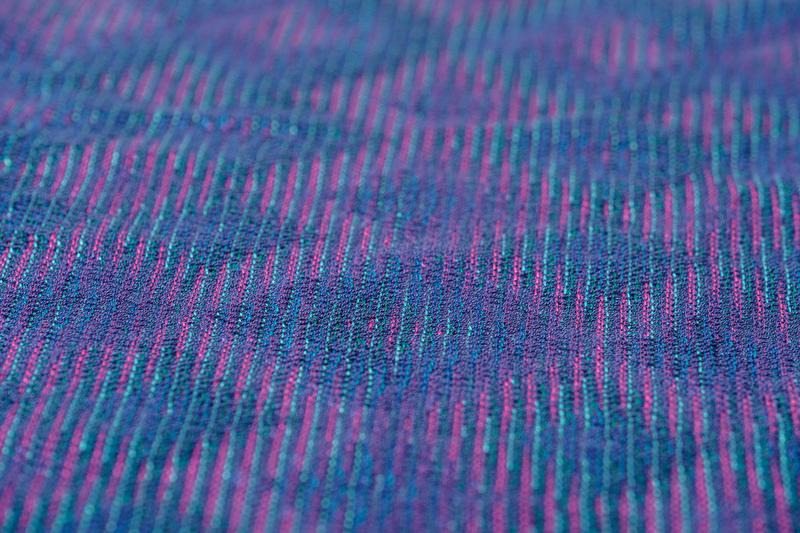 For the pattern, I revisited the star-pattern that I previously wove on 8 shafts. I decided to make the points in the shawl's pattern a little bit sharper, such that you can more readily see the squares that the stars are made up of.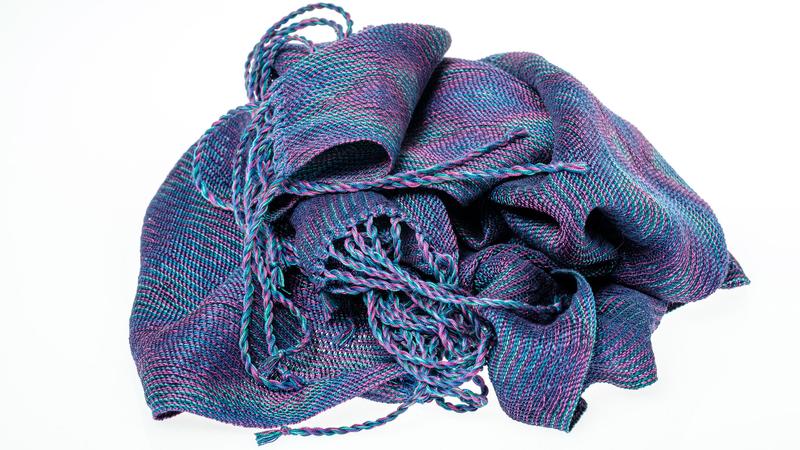 It was a surprise to me that the front and back of the scarf turned out to look quite different. The pattern is the same but the colors seem to combine in a very different way.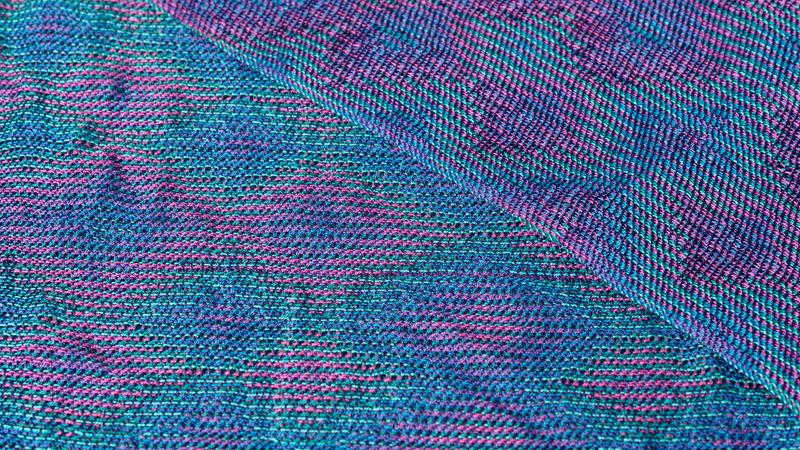 Overall, the shawl was a joy to weave. The thinness of the 20/2 yarn used to intimidate me quite a bit. After having built-up some more experience this yarn, I can honestly say that it has become one of my favorite yarns to work with. I don't mind the threading of the many heddles — and sleying all those dents — but winding those bobbins still seems to take forever.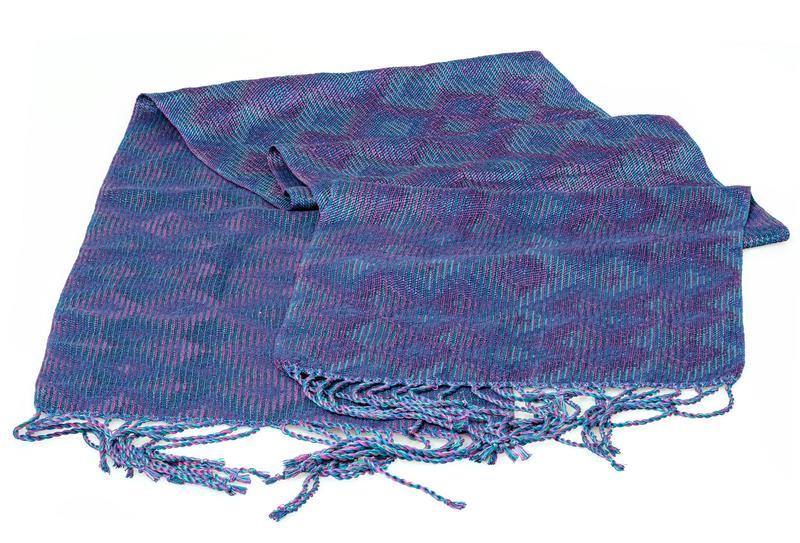 Flower in echo-6
After making some echo-8 projects, I decided to mix it up a little when making a shawl for one of my aunts. I had previously woven with four parallel threadings (echo-4) on eight shafts. Hence it seemed only natural to me to try-out six parallel threadings now that twelve shafts were available to me.
Six parallel threadings can readily be constructed by starting with one design line and adding five echoes each two shafts apart. I like to think of this technique as echo-6, in loving reference to the well-established echo-4 and echo-8 techniques of Marian Stubenitsky.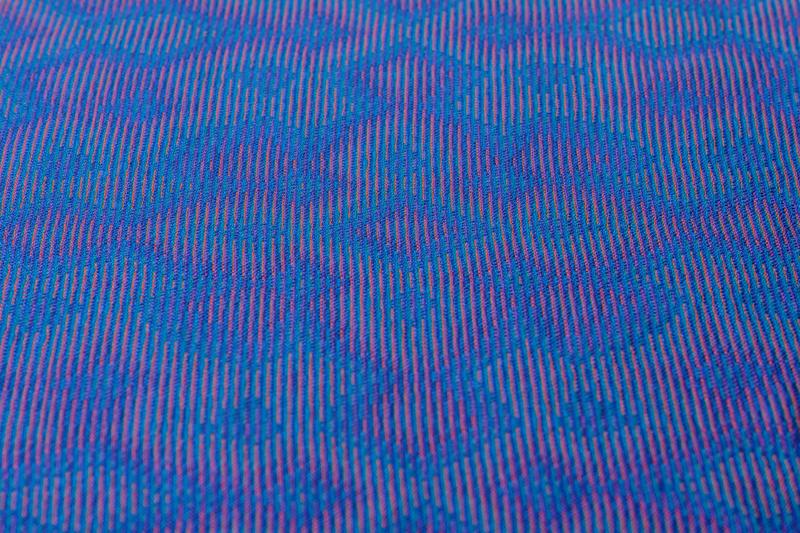 I turned to my go-to eight-colored rainbow palette and deleted both yellow and red to arrive at a palette with six colors. Experience has taught me that yellow tends to dominate the look of an echo-project. In this project, I wanted to try creating a more subdued rainbow. I combined this with a cobalt blue weft.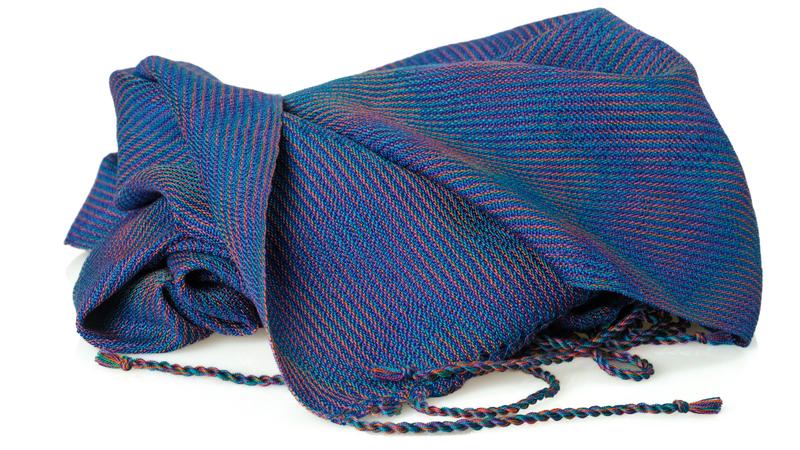 I made a flower-like pattern covering the whole width of the 40cm-wide shawl. A total of five repeats of the square pattern were enough to end up with a shawl that is a comfortable two meters long. Just as for the star-shaped pattern in echo-8, I feel that the two sides of the scarf both show a unique interplay of colors. I really enjoy seeing this effect once the shawl comes off the loom.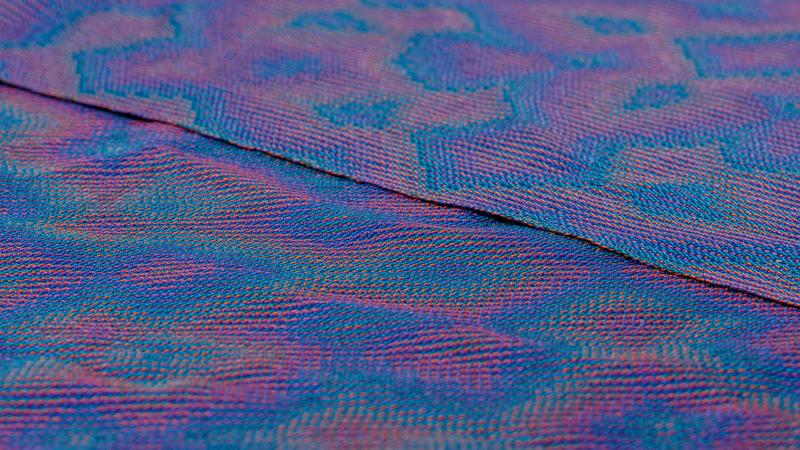 This experiment with 6 parallel threadings was quite enjoyable. Threading the heddles is easier than in echo-8 due to the six sequential lines — instead of eight lines that go back-and-forth. I also really enjoy the iridescence achieved in this shawl. It's safe to say that this won't be my last shawl in echo-6. In fact, there is one on my loom at this very moment. A good way to start 2023!