Sometimes things just happen to come together. In late spring 2020, I combined three things to create a new project.
Over the prior months, I had grown very fond of weaving with Tropical by Phildar. This is an extremely soft bamboo viscose yarn. After the release of some new colors, the palette spanned across the rainbow. I really wanted to use all these colors in a single project — yet I was not sure how to really make them pop.
My journey in discovering advancing twill inspired me to use all colors side by side in a warp and combine it with a black weft. Now I had the yarn and the weaving technique I wanted to use — I just needed to decide on what project to make.
Earlier this year, I became the proud owner of a Louët 8-shaft loom with a weaving width of 90 cm. Up until then I had no need to use the full width of the loom. After all, 60 cm makes a more than generous kitchen towel. I wanted to challenge myself to use a wider warp by making a blanket. The combination of all colors of the bamboo yarn together with the advancing twill draft I had in mind gave me the opportunity to do just that.
Thus the rainbow blanket was born.
Picking the palette
I have used this bamboo viscose yarn in a number of projects, from shawls and pillows to kitchen towels. The yarn has a great shimmer and is soft to the touch. It comes in a somewhat limited range of colors, but luckily the palette happens to include some of my favorite shades. I especially love the deep pink, blue and green together. Earlier this year, a lighter shade of both pink and blue was added to the palette. This inspired me to make a rainbow out of all the available colors.

Rainbows are such an intriguing weather phenomenon. They give a visual proof that sunlight is made up of a spectrum of colors and are a reminder that all the colors we observe are created by the reflection and absorption of sunlight by materials. For me, this makes it especially fun to weave a rainbow – as the fact that sunlight comprises the full color spectrum is a necessity for both the existence of a rainbow and our ability to distinguish between the different colors of the yarn.
Advancing the twill
This is one of those projects that started out with several hours of experimenting in my weaving software. I went through numerous drafts to obtain a pattern I felt would do justice to the yarn. I started out with the idea to make a small blanket using the full width of my loom. However, over time this idea transformed into making a larger blanket out of two woven panels.
I finally decided on a pattern with a weaving width of 75 cm, still considerably wider than the projects I usually make. I planned on making two identical panels that I could sew together in the middle. By flipping the second panel, the panels would be the mirror images of each other. This would yield a rainbow would all the way across to the middle of the blanket and then back again. The result: a very luxuriously sized blanket.

I chose for an advancing twill pattern on 6 shafts. Using all 8 shafts with advancing twill patterns results in the combination of twill and plain weave sections, I used this technique for my crochet cotton towels and bamboo shawls. For the blanket, I went with a look in which the twill and plain weave sections are less pronounced — advancing twill on 6 shafts gives just this.
A rainbow is born
Sometimes, a warp by itself can look so pleasing. This was one of those warps. Just seeing the colors side by side made me happy. Hence, weaving was a pleasure. The wide warp did take some getting used to, I had to throw my shuttle with more speed for it to reach the other end of the warp. However, it was fun to challenge myself to learn something new. For this wide project I especially appreciated my Louët Flying Dutchman shuttle. A good shuttle make weaving far more fun.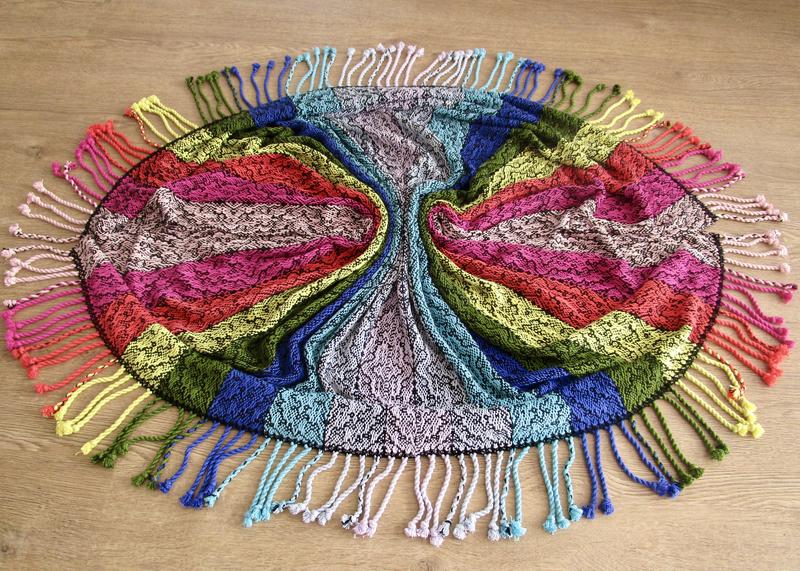 I finished the blanket by sewing the two panels together and made twisted fringes on both sides. The blanket has already come in very handy on those summer evenings that were rather on the chilly side.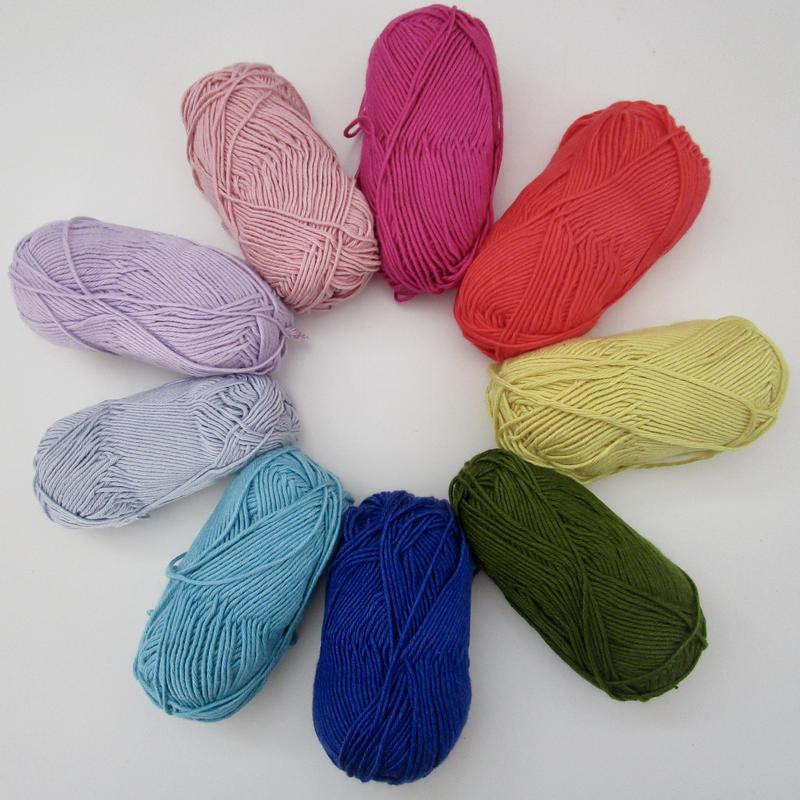 Every project requires a choice of yarn, weaving technique and project purpose. Sometimes these things come together quickly, sometimes it takes a while. This project had been in the making for quite some time, as I struggled to find the right weaving technique and project purpose that would suit the rainbow colored yarn. When the puzzle pieces finally fell into place, it was very pleasing to see the rainbow come to live across my loom. The blanket was definitely worth the wait.
Please contact me if you have any comments or questions!