When I got my first loom, I had been crocheting for a couple of years already. In fact, I got inspired to give weaving a try on a yarn fair I attended to serve my crochet yarn needs. I tried out several of my favorite crochet yarns on my rigid heddle loom with different rates of success. This taught me that I could weave wonderful kitchen towels with unmercerized crochet cotton. My habit of weaving crochet cotton towels continued after I obtained my floor loom.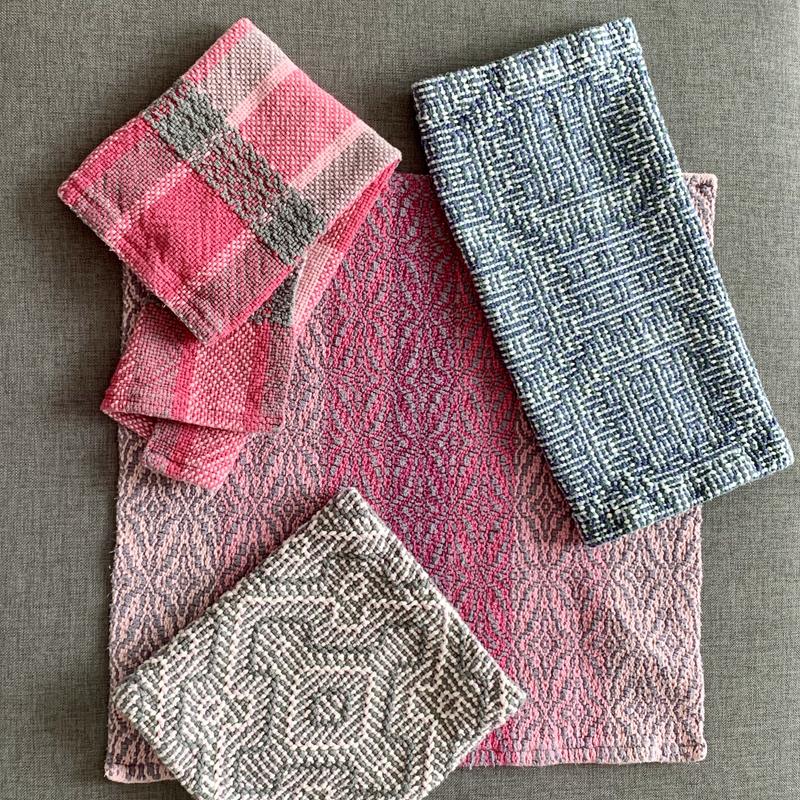 An advancing twill experiment
For me, crochet cotton is an attractive weaving yarn as it is readily available in a range of colors and yarn weights in most yarn shops. It results in woven fabric that is sturdy, yet soft to the touch. Another important advantage is that it holds up very well in the washing machine and dryer. In day to day use, my favourite handwoven towels are the ones I've woven with crochet cotton.
At the moment, I am experimenting a lot with advancing twill weave structures. This summer, I decided to dress my loom with a warp of fingering weight cotton that would allow me to make six kitchen towels using an advancing twill pattern resembling stars. The idea was to experiment with different color combinations and echo effects, giving each towel a completely different look.
For the warp, I chose a lovely pink shade of Sunkissed by Scheepjes. This yarn is slightly variegated, giving it a lively look. I combined this with wefts of different crochet cottons from my generous stash in both fingering weight (Cotton 8 and Organicon) and aran weight (Cahlista) yarns.
Plain-old advancing twill
The simplest towel I made uses just one weft color: deep turquoise in a variegated Sunkissed variant. I wanted to see what the pattern would look like in this simple configuration. I do think the colors work well together, but I prefer mixing things up a bit more. Which is what I did in the next towel: the same pattern, but alternating two weft colors. As it goes with experiments, some are more succesful than others. The light green and lilac weft colors combine with the pink warp in a very subtle way. A bit too subtle perhaps…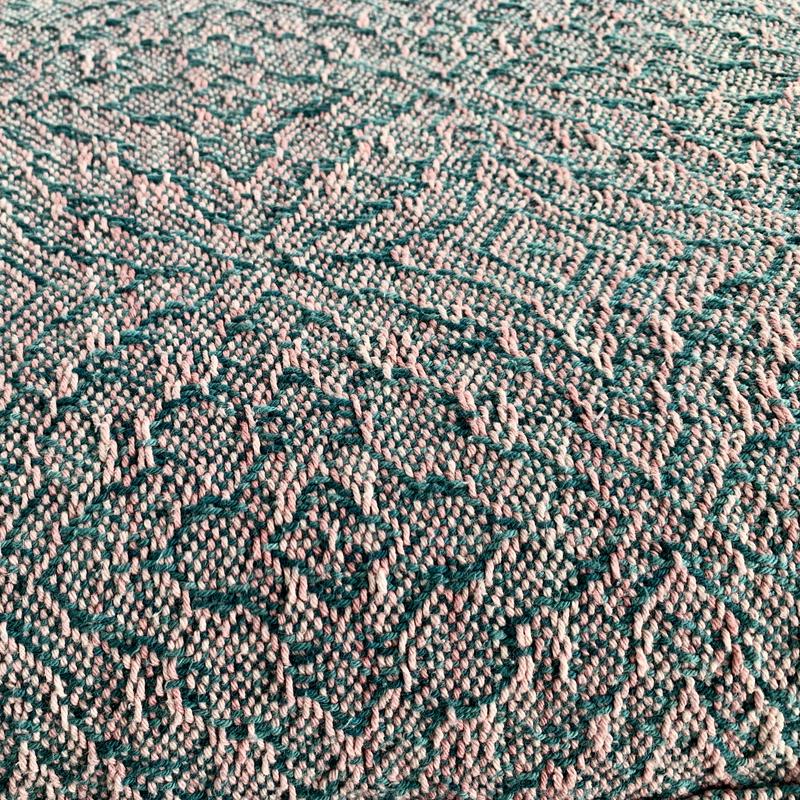 For the third towel, I again opted to alternate green and purple in the weft. Yet, this time I chose more bright versions of the colors and aran weight yarn instead of fingering weight. This color combination turned out more succesful, and I like the combination of the fingering weight warp with the aran weight weft as well. The use of thicker yarn results in a nice elongation of the motifs.
Echos in advancing twill
For the remaining three towels, I experimented by adding an echo effect to the advancing twill pattern. I made one towel with deep pink and light turquoise as weft color and I combined deep pink with (variegated) deep blue for the next towel. I think these weft colors combine lovely with the light pink from the warp. The very last towel combines an aran weight deep blue and a fingering weight light blue in the weft. The difference in yarn weights adds to the texture of the fabric without making it stiff.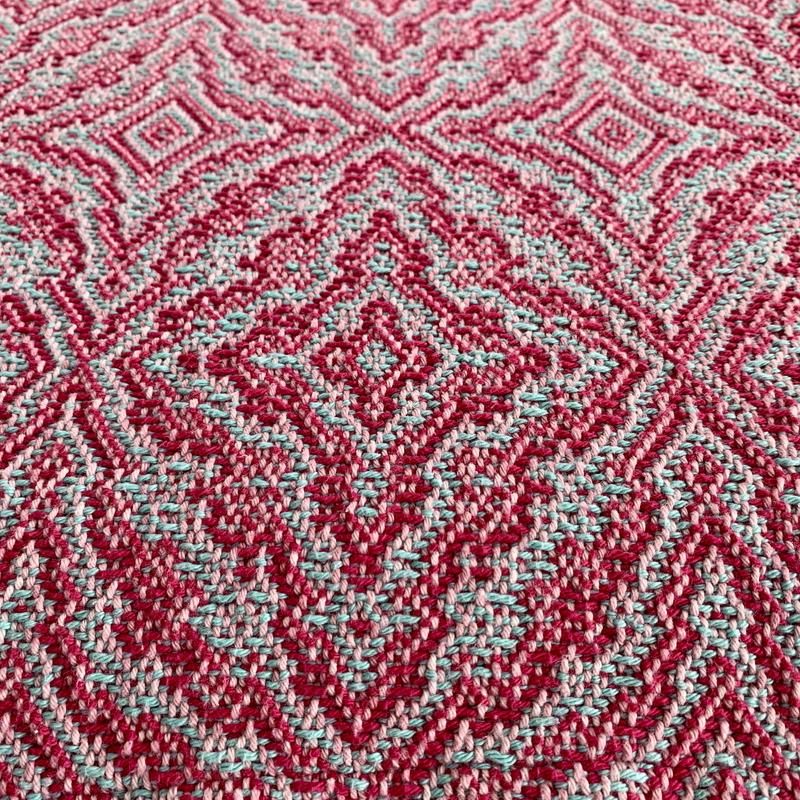 I chose a sett for the warp of 5 ends per cm, which results in a nicely balanced weave in combination with the advancing twill pattern. However, the use of an echo weft thread changes this up a bit. The echo effect elongates the motifs of the pattern, which is especially the case when using an aran weight weft. I like the look of the elongated shapes and actually prefer them a bit over the balanced weave I obtained in the towels without echo.
At this point, I was out of warp, but far from out of ideas for more color combinations and pattern modifications. I had fun going through my stash and picking colors for every one of these towels. This variety made it very enjoyable to weave these towels and I am sure this won't be the last time I turn to crochet cotton for my weaving projects.
Please contact me if you have any comments or questions!