When experimenting with new yarn, you have no guarantee that the end-result will meet your expectations. Sometimes you need a little outside encouragement to try something you doubt will work, only to find out that the end-result is far better than you could ever expect. This happened to me early winter 2019. My husband had worn the shawl I wove for him with pride throughout autumn. However, early winter he admitted that the shawl would not suffice to keep him warm during the coldest months of the year.
I was a bit hesitant to try weaving with bulky yarn, as I feared the end-result would be too thick and heavy. As I went through my stash, I stumbled upon some balls of bulky blow yarn. This yarn is thick, yet not heavy, as the yarn is made by blowing fibers into a tube. A quick estimate revealed that I would need about 200 grams to make a luxuriously sized shawl — certainly not too heavy.
I had no idea how the yarn would hold under tension on the loom, but decided to take the chance. I adapted one of my earlier shadow weave patterns to create a shawl with a motif covering the entire width of the shawl and chose two shades of blue: dark blue and turquoise.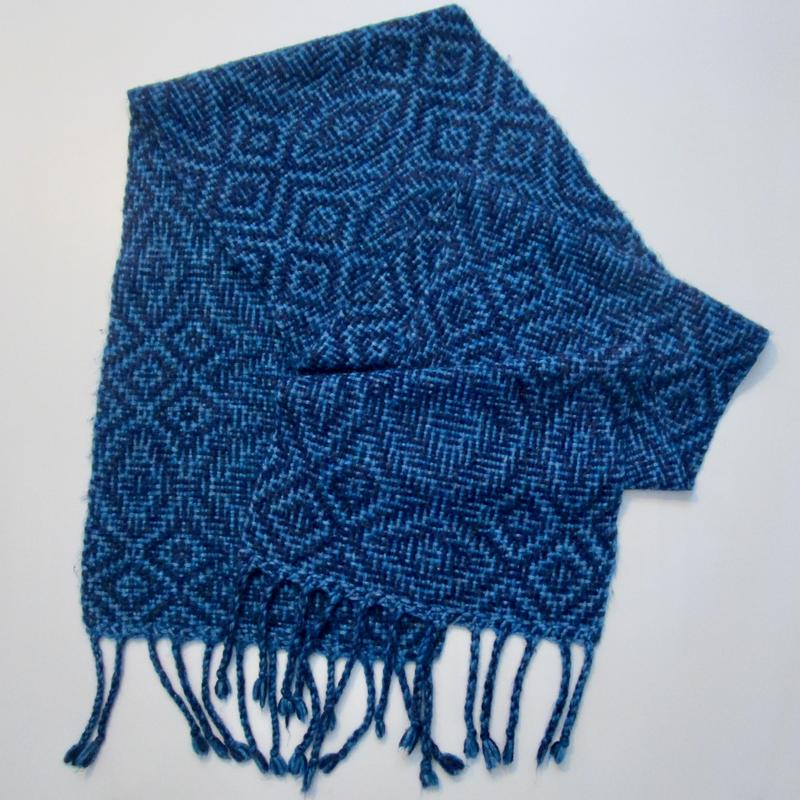 The result was far better than I could have hoped for. It was a delight to make the shawl. The winding and warping were done in no time, as the warp only required about 100 ends. The yarn could withstand the tension on the loom very well, which made it a pleasure to weave. With a sett of 2 picks per cm, the shawl was ready before I knew it. It is thick and warm, yet also light and airy.
This opened up a whole new world of possibilities for me. In my local yarn-shop, I spotted some blow yarn in neon pink and I knew I had to make myself a shawl using this bright color. I paired it in a warp with tints of green and turquoise in an advancing twill design and used dark purple as a weft. This shawl became one of my favorites during last winter, and my husband thoroughly enjoyed his as well.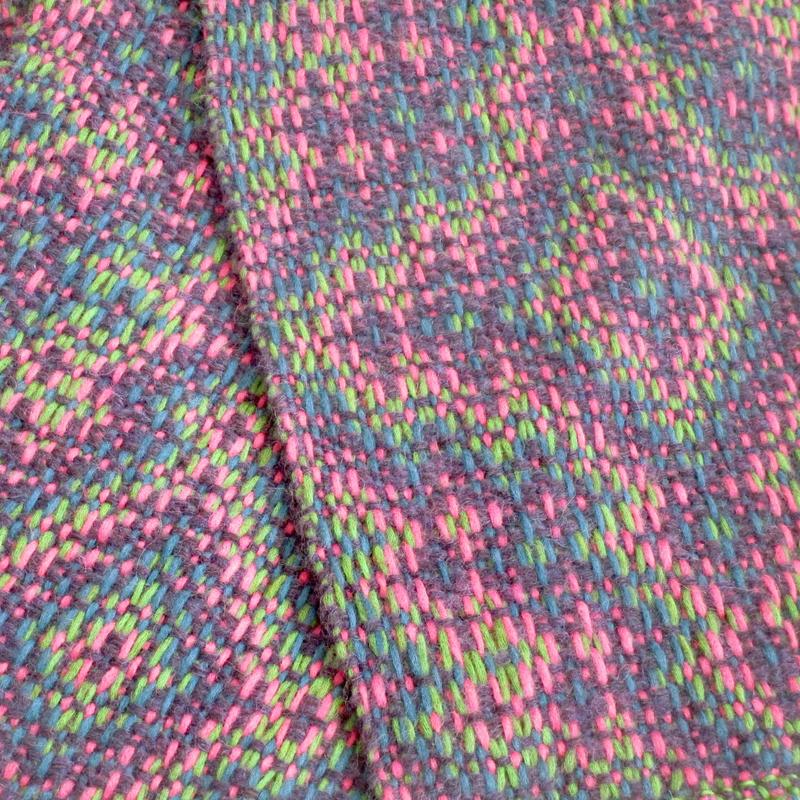 But it didn't end there. I made two more shawls in shadow weave as birthday presents for my family. The shawl in pink and black was a gift to my sister. For my mother, I used two tints of beige. Both of them were very pleased.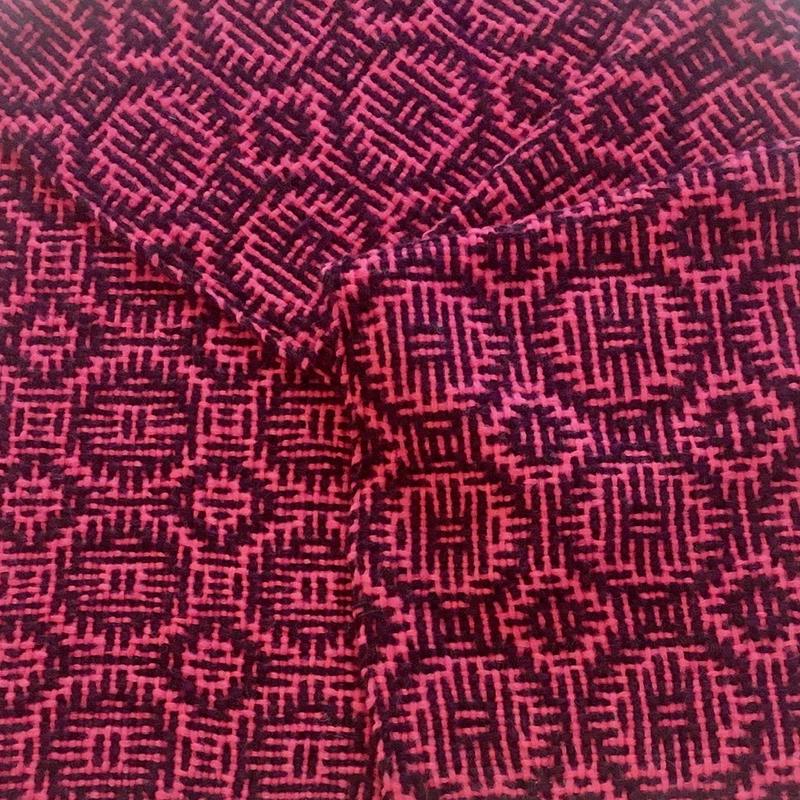 For my mother-in-law and my aunt, I came up with an advancing twill design using shades of turquoise, blue and red. The two shawls are woven on the same warp, using different treadling sequences.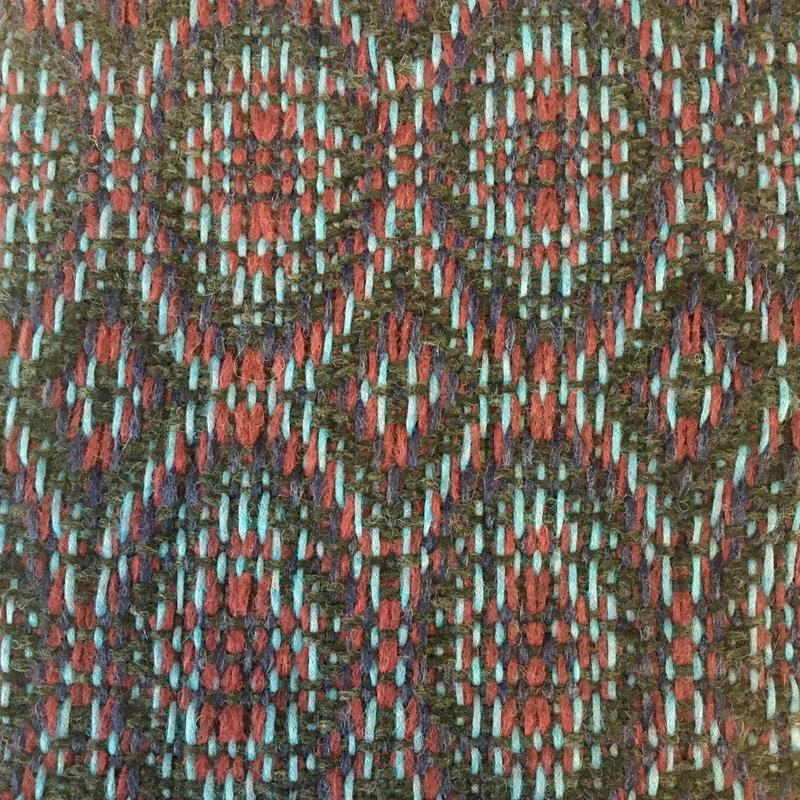 These shawls were all made on my 4-shaft loom. When I got my 8-shaft loom in early 2020, my first project was a shawl made of blow yarn as well. For this shawl, I combined shadow weave threading and treadling sequences with a twill tie-up. I discovered this combination by coincidence when playing around in weaving software. I am not sure whether this structure has a name, but I do like the result. I revisited the neon pink and combined it with black.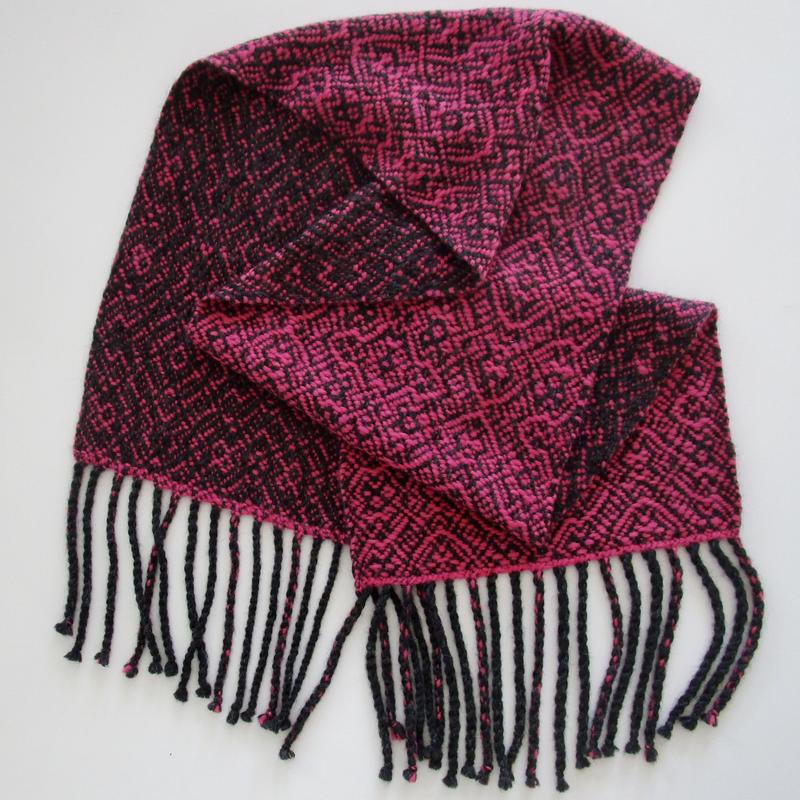 After this productive winter, spring started to set in and I returned to less bulky yarns for my spring projects. However, autumn is just around the corner and I certainly plan to make some blow yarn projects again in the remainder of 2020.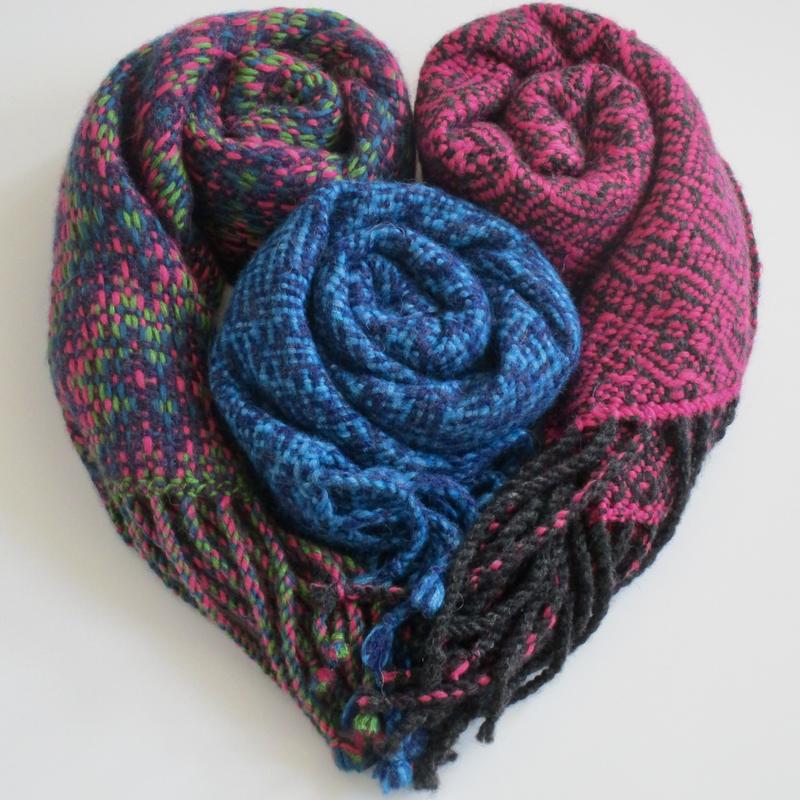 I am very happy my husband asked for a thick and warm shawl last year. What started as a reluctant experiment, turned out to be one of my favorite weaving experiences thus far.
Please contact me if you have any comments or questions!