I love delving into a new weaving technique and expanding my understanding of the technique with every project I make. My journey into weaving led me to experiments centered around the shadow weave technique throughout 2019. In my woven world, 2020 was characterised by explorations of advancing twill and echo effects. I have a feeling that 2021 will be the year of turned taquete.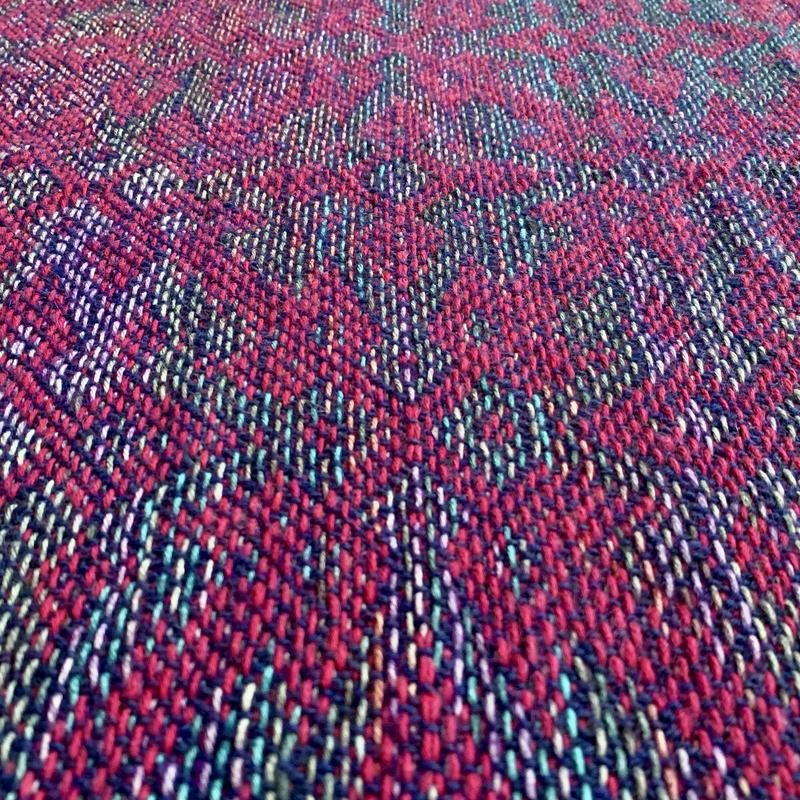 When 20202 neared its end, I found myself wanting to try out something new. I picked up my weaving books for inspiration and decided to give turned taquete a try. This technique seemed like one I would enjoy exploring, as it allows for intricate and colourful patterns. I recent treated myself to the weaving design software Fiberworks PCW — its many handy design features turned out to be an indispensable part of designing some first turned taquete patterns.
Setting the stage
Delving into a new technique thoroughly excites me, but can also feel a bit overwhelming at first. Not being able to rely on past experiences, there are a lot of options to consider. As it turned out, getting the sett right was the biggest challenge.
I started with a warp of aran weight cotton from my stash, making the warp long enough to accomodate four kitchen towels. While weaving the towels, I was so excited about the beautiful look of the turned taquete that I did not notice that my chosen sett was too loose. When I finished weaving my fourth towel, my warp was not yet at its end and I was able to squeeze out a fifth towel. That was when I realised my kitchen towels would not be squares, but rectangles. Either way, my love for turned taquete was born and I had five towels to show for it.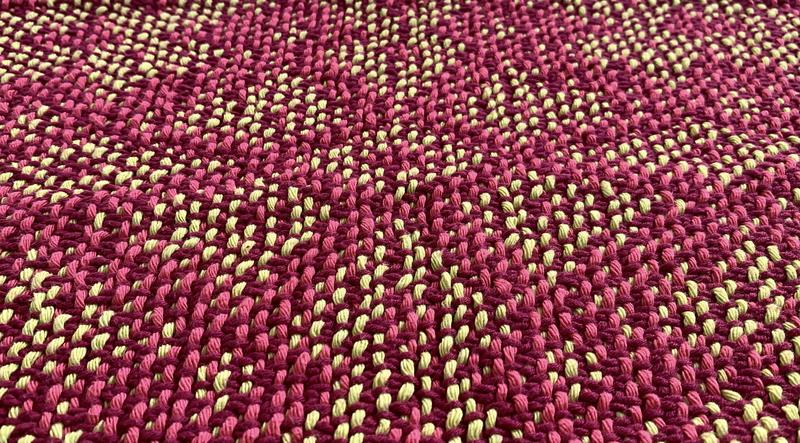 In my second project, I overshot the other way and chose my sett too tight. I had some balls of blow yarn in my stash waiting to become a shawl and this seemed like the perfect opportunity to put them to good use. I experimented with the warp colors, using four alternating colors instead of the usual two. This color experiment was quite succesful, but my chosen sett less so. Again, I was not able to weave to square. Yet, this time, my design became elongated instead of squeezed. I did not let this bother me and ended up with a nice shawl nonetheless.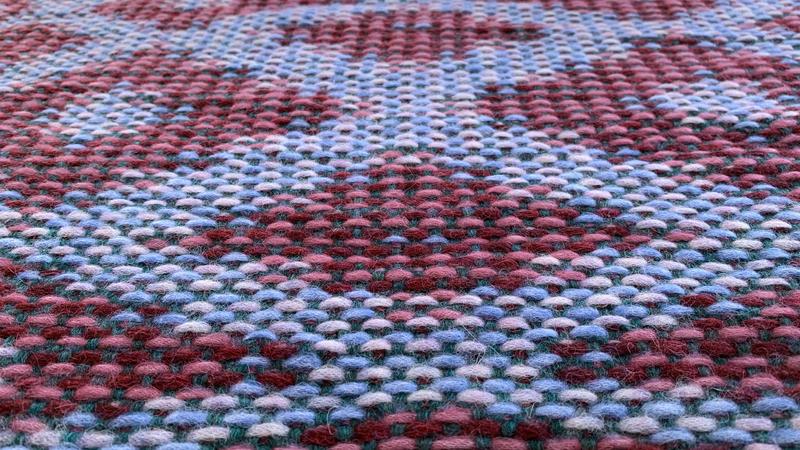 Getting it right
So, getting the sett right for turned taquete was quite a struggle, but I am happy to say my subsequent endeavours were more succesful. After the two experiments with stash yarn, I felt ready to make a design from scratch instead from stash. Ever since I saw the hand-dyed versions of Ecopuno by Lana Grossa, they had been in the back of my mind waiting for the right project as an excuse to buy them. So, off I went designing in Fiberworks with this yarn in mind. The final design I came up with: a luxuriously sized shawl with a flower-like pattern in the Ecopuno blend of cotton, wool, and alpaca.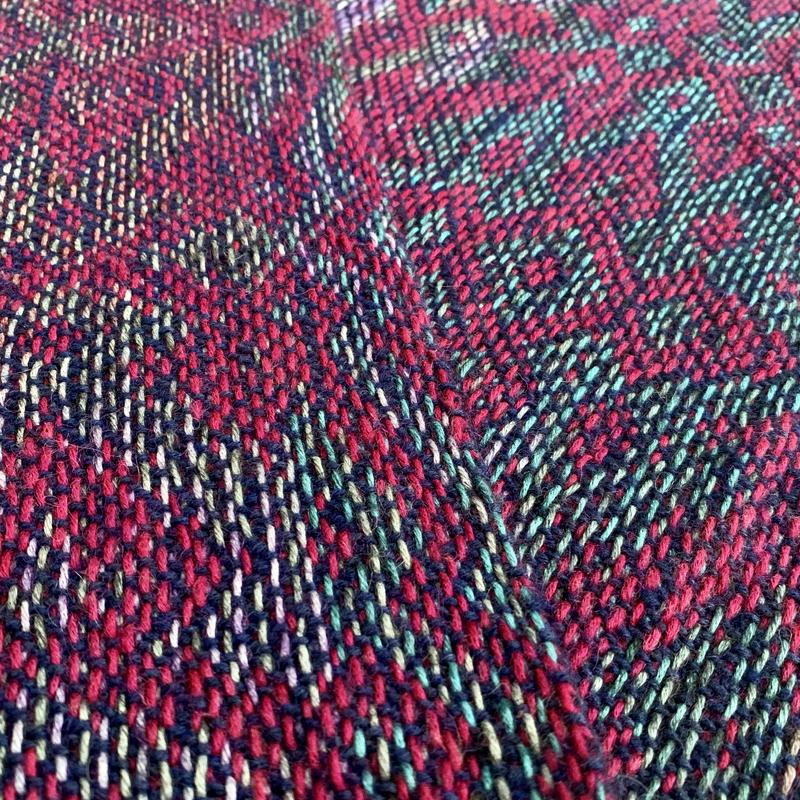 From the hand-dyed collection, I chose a yarn with shades of grey, turquoise, pink and purple and combined this variegated yarn with two solid colors. I alternated solid magenta and the variegated yarn in the warp and I opted for a marine weft. As I was dressing my loom with the warp, I kept my fingers crossed that my chose sett would be correct. And it turned out it was! The shawl was such a joy to weave and my design, yarn choice and sett were a succes, if I say so myself.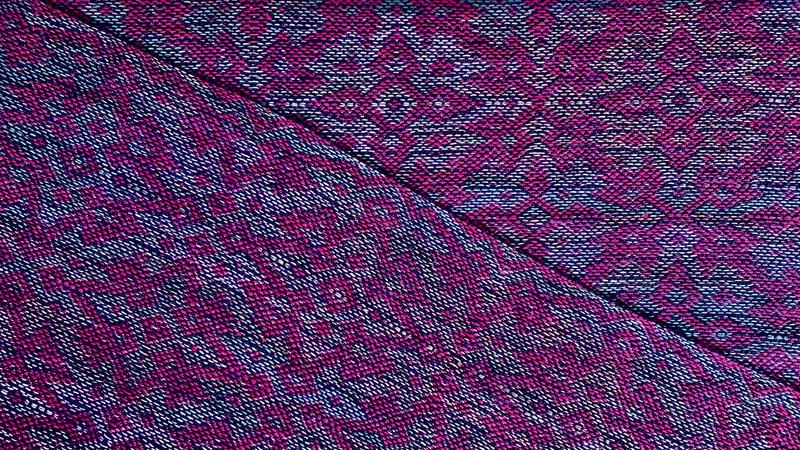 After these experiments, I can definitely add turned taquete to my list of favorite weaving structures. Since my Ecopuno shawl came off the loom, I explored turned taquete further and I am fairly certain turned taquete is here to stay and keep me busy in 2021.