One of my New Year's resolutions for 2020 was to use less single-use products. I intend to extend this resolution into 2021. To reduce my use of paper handkerchiefs, I bought some good old-fashioned cotton ones. However, I was only able to find them in traditional checks pattern in muted colorways. This inspired me to design some handkerchiefs myself, using a checks pattern in a more modern and playful way. I took this project as an opportunity to experiment with colors and patterns in shadow weave.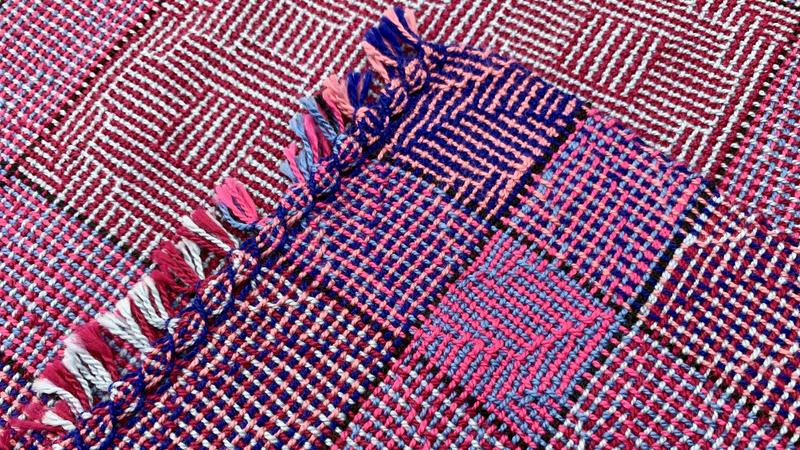 Pushing the color boundaries
From a practical use perspective, I did not want to have long floats in the handkerchiefs. This is where shadow weave enters in: it allows for great designs without long floats. Traditional shadow weave uses two contrasting colors, but three or more colors can also be combined. As long as the chosen colors can be split in two groups that show enough color contrast, the motifs remain visible.
For the handkerchiefs, I used pink and blue as these overarching color groups and chose a light, medium and dark tint of both blue and pink. The shades of pink show enough contrast to the blue shades for a clear pattern to emerge. As the handkerchiefs are meant to be used, I opted for a 100% cotton 8/2 yarn that can handle machine washing.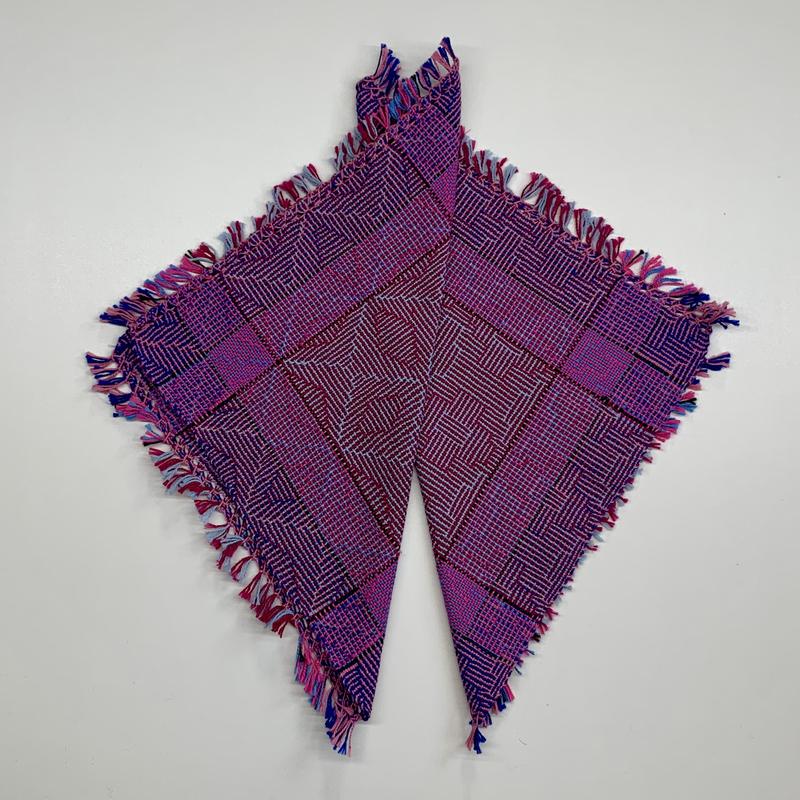 I made 3 different combinations of the pink and blue tints and divided both warp and weft in these color blocks: a block of dark blue/light pink, a block of medium blue/medium pink, an extended block of light blue/dark pink, a block of medium blue/medium pink, a block of dark blue/light pink. The different color blocks intersect in warp and weft to create a checks pattern in a playful variety of colors. To mark the transitions between color blocks, I added some threads of black. So, a total of 7 colors were used in this shadow weave project: a personal record.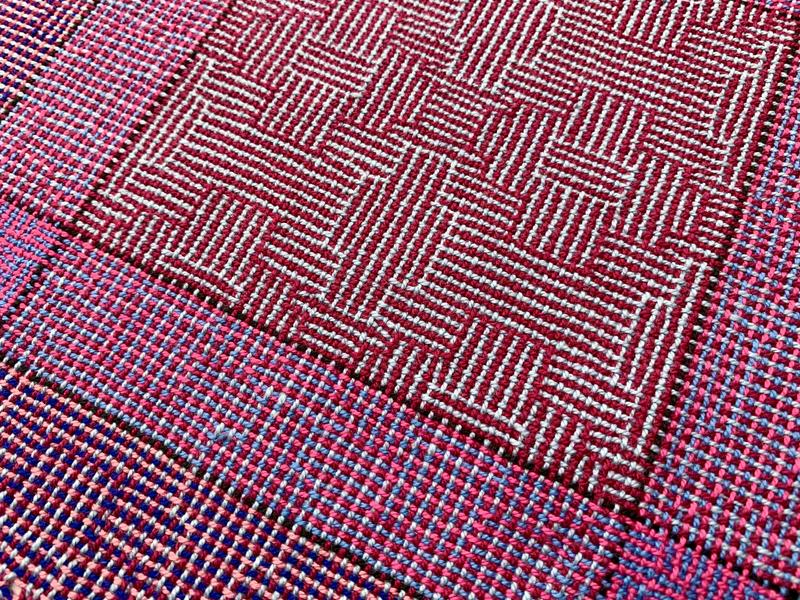 Pushing the pattern boundaries
To complement the checkered grid resulting from the different color combination blocks, I designed a pattern of circles and diamonds that partially intersect the grid. I originally designed 2 patterns both requiring 8-shafts, but I wanted to make a set of 4 distinct handkerchiefs from one warp.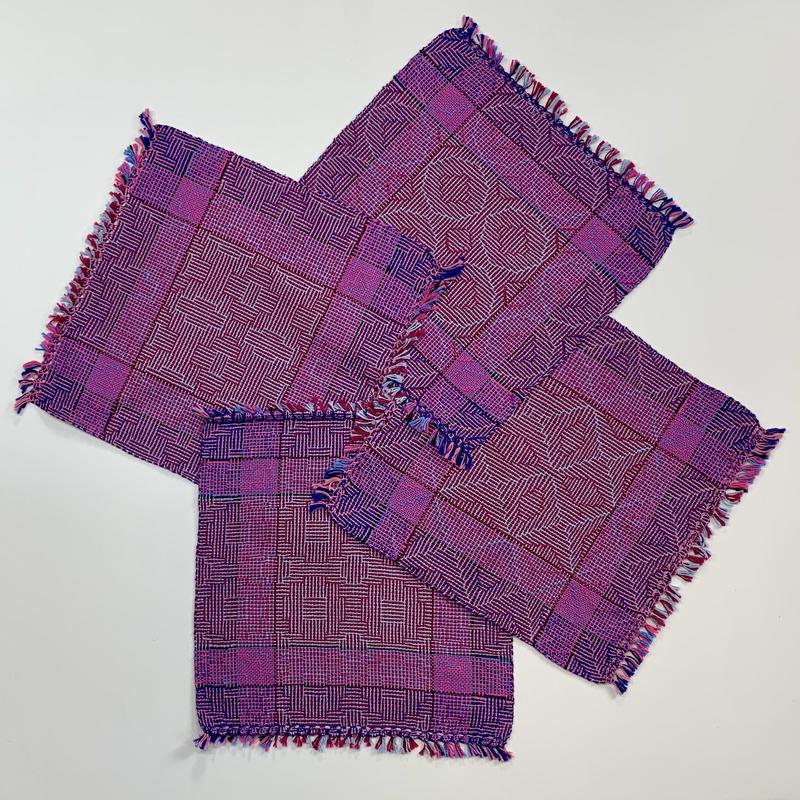 I wondered whether I could recreate 4-shaft shadow weave by adjusting the tie-up of the 8 shafts. After some trial-and-error, I found a way to adjust the tie-up so that 4-shaft versions of the 2 patterns can be woven on the same warp. Hence, I could weave both 4-shaft and 8-shaft versions of the circles and diamonds on an 8-shaft loom by just changing the tie-up. This neat little trick expanded my design options for shadow weave.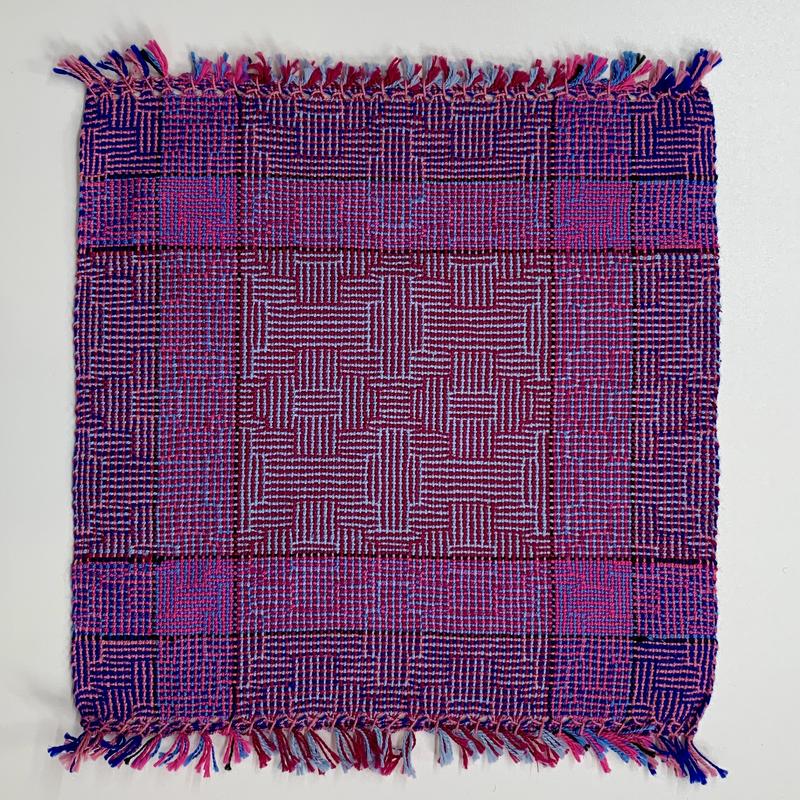 To add a little embellishment, I finished the handkerchiefs with Italian hemstitch and short fringes.
Combining fun and practicality
This project was a fun experiment with color and pattern in shadow weave which resulted in a very practical set of handkerchiefs. Not only do they help me in keeping my New Year's resolution — they are also definitely more fun to look at than white paper or store-bought cotton handkerchiefs!